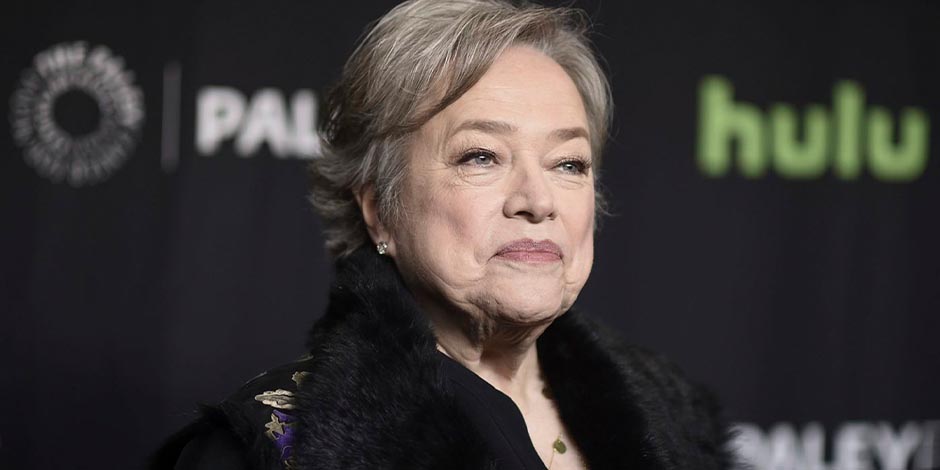 About Kathy Bates
Kathy Bates is an actress/director from America. She is known for her breakthrough performance as Annie Wilkes in the 1990 horror film "Misery." She has also made appearances in "The Road to Mecca," "Fifth of July," "Vanities," "Disjointed," "American Dad!", "Mike & Molly," "The Doctors," "Annie," "Possessed," "Midnight in Paris," "The Blind Side," and several other films, television series, and theatre performances.
In over five decades, the seventy-two-years-old veteran actress has made appearances in over eight films, thirty television series, and twelve theatre performances. She has also directed ten television series/movies. She has also been nominated in the Academy Awards four times.
Quick Info
Full Name
Kathleen Doyle Bates
Date of Birth
June 28, 1948
Birth Palce
Memphis, Tennessee, U.S.
Parent(s)
Langdon Doyle Bates and Bertie Kathleen
Occupation
Actress, Director
Spouse(s)
Tony Campisi
​​(m. 1991; div. 1997)
Net Worth
US $32 million
Early Life
She was born to Langdon Doyle Bates and Bertie Kathleen on 28th June 1948 in Memphis. She is the youngest of the three siblings. Her father was a mechanical engineer while her mother was a homemaker. Her father died in 1989, and her mother died in 1997.
Kathy Bates completed her high school studies from White Station High School in 1965. After her high school graduation, she enrolled in the South Methodist University. There, she studied theatre and graduated in 1969. She was also a member of Alpha Delta Pi Sorority during her years at South Methodist University. She had also attended William Esper Studio to study performing arts.
Before getting her acting role, she had worked various odd jobs and was also the cashier at the Museum of Modern Art.
Career
In Film
Kathy Bates's first acting role in the film was in the 1971 comedy film "Taking off" as an auditioning singer. She was not seen in the film for about seven years and then made a comeback from the 1978 film "Straight Time" as Selma Darin. Her next film appearance was Stella Mae in the 1982 comedy-drama "Come Back to the Five and Dime, Jimmy Dean, Jimmy Dean."
She featured in three films in 1987, "Murder Obtained" as Bobbi Birk, "Summer Heat" as Ruth Stanton, and "My Best friend is a Vampire" as Helen Blake. She has also starred in "Arthur 2: On the Rocks" as Mrs. Canby in 1988 and "Signs of Life" as Mary Beth Alder in 1989. She made four film appearances in 1990. Out of the four, her performance in the horror film "Misery" as Annie Wilkes was her breakthrough performance. Her performance in the movie won her an Academy Award for Best Actress in 1991.
Kathy Bates has also made appearances in "Shadows and Fog," "Fried Green Tomatoes," "The Road to Mecca," "Prelude to a Kiss," "Used People," "North," "Angus," "The War at Home," "Dolores Claiborne" and a few other films from 1990 to 1997. She had portrayed Molly Brown in the 1997 epic romantic blockbuster film "Titanic."
She had featured in the 1998 comedy-drama "Primary Colors" as Libby Holden in 1998. Her performance in the film won her another nomination at the Academy Awards. Her next Academy Awards nomination came five years later in 2003 for her performance in the 2002 comedy-drama "About Schmidt." She got her fourth Academy Awards nomination for her performance as Bobi Jewell in the 2019 biographical drama film "Richard Jewell."
Kathy Bates has also made appearances in "Boychoir," "Tammy," "The Boss," "Bad Santa 2", "Midnight in Paris," "Valentine's Day," "Guilty Hearts," "P.S. I Love You," "The Day the Earth Stood Still," "Relative Strangers" and several other films. She has also made appearances in several television films, including "Hostages," "Annie," "Ambulance Girl," "Warm Springs," and "The West Side Waltz." Bates is also famous for her voice roles of many characters, including Mrs. Kadoya, Miss Dowdy, Hester, Janet Benson, Bitsy, and a few more.
She will also be starring in the upcoming film "The Miracle Club," which is due to release in 2022.
In Television
Kathy Bates made her television debut from the 1977 soap opera "The Doctors" as Phyllis. She then played Sally Allison for the episodes "Too Hot to Handle," "Family reunion," and "Cinderella Story" of "The Love Boat" in 1978. Her first long-running television role came as Bettina in the drama series "Six Feet Under." She played the character for ten episodes from 2003 to 2005. In 2011 she was featured as Harriet Korn for thirty-four episodes of "Harry's Law."
Kathy Bates has also made appearances in "St. Elsewhere", "One Life to Live," "All My Children," "China Beach," "L.A. Law," "American Experience," "MADtv," "King of the Hill" and several other television series. She will also be making an appearance in the upcoming season of "American Horror Story" in 2021.
In Theatre
Kathy Bates made her debut in theatre from the 1975 off-Broadway play "Casserole" as a Performer. The same year, she had also made an appearance in "A Quality of Mercy." In 1976, she played Joanne in the off-Broadway play "Vanities." She received a Tony Award nomination for her performance as Jessie Cates in the 1983-84 stage production of "' night, Mother." "Master Class" was her last theatre performance.
Kathy Bates has also directed several episodes of television series, including "Everwood," "Great Performances," and "Homicide: Life on the Street."
Awards
From 1963 to present, Kathy Bates has been nominated in over 109 award functions, including four Academy Awards, two BAFTA Awards, thirteen Primetime Emmy Awards, and eight Golden Globes Awards. She has won twenty-nine of the 109 nominations, which includes an Academy Awards.
Personal Life
Kathy Bates was married to Tony Campisi from 1991 to 1997. She has a part of Irish ancestry. She has battled both ovarian and breast cancer and has recovered from both.
Height and Weight
Kathy Bates is 1.6 meters or five feet and three inches in height and weighs ninety-two kilograms.
Social Media
Kathy Bates has over 416 thousand followers in her official Twitter handle @MsKathyBates.
Net Worth
According to celebritynetworth.com, Kathy Bates has an estimated net worth of $32 million.
Tags
Others