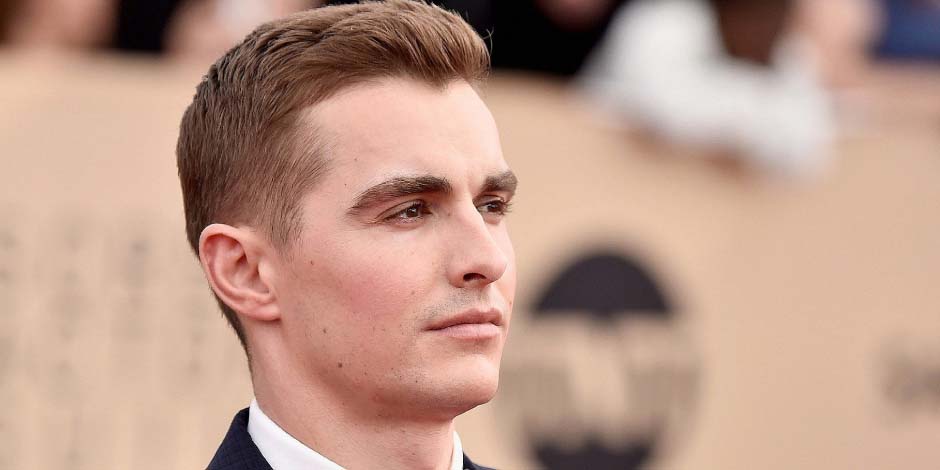 Who is Dave Franco?
Dave Franco is an American actor and a director who is well-known for playing the recurring role of Eric Molson in the American buddy cop action-comedy movies, '21 Jump Street' and '22 Jump Street'. He has also played the recurring role of Pete Regazolli in the American comedy movies, 'Neighbors' and 'Neighbors 2: Sorority Rising' and the recurring role of Jack Wilder in the American heist thriller movies, 'Now You See Me' and 'Now You See Me 2'. Moreover, he has also helped produce, write and direct the 2020 American horror movie, 'The Rental'.
Quick Infos
Full Name
David John Franco
Date of birth
June 12, 1985
Birth Place
Palo Alto, California, United States
Parent(s)
Douglas Eugene Franco
Betsy Franco
Occupation
Actor, Director
Spouse
Alison Brie
Age
35 years
Height
5 ft 7 in
Weight
68 kgs
Nationality
American
Net worth
US $10 million
Bio, Age, and Zodiac
Dave Franco's full name is David John Franco. He was born on 12 June 1985 in Palo Alto, California to his mother, Betsey Lou Verne who is a poet, an author, and an editor, and to his father, Douglas Eugene Franco who ran the Silicon Valley business. He was born and raised alongside two elder brothers whose names are Tom Franco, an American actor, and Dave Franco, an American actor, filmmaker, comedian, painter, and a writer in California. Besides this, he is currently 35 years old with the zodiac sign of Gemini.
Nationality, Height, Weight, and Body
Dave Franco holds an American nationality and descends from Portuguese, Madeiran, and Swedish ancestry from his father's side and descends from Ashkenazi Jewish ancestry from his mother's side. He is Jewish and practices Judaism as his religion. Besides this, he stands at a height of 5 feet and 7 inches (1.70m/170cms) tall and weighs around 68kgs (150lbs). Moreover, he has an athletic body figure with a pair of light brown colored eyes and dark brown colored hair.
Education and University
Dave Franco studied at the University of Southern California, a private research university located in Los Angeles, California. He was initially interested in being a high school teacher teaching creative writing but changed his mind when he was introduced into the world of acting by his brother, James Franco's manager.
Personal Life, Wife, and Family
Dave Franco is married to Alison Brie, an actress. The two of them met back in the year 2012 and dated for three years before getting engaged in the year 2015. The couple tied knots in the year 2017 in a private ceremony. He has not had any children to date.
Social Media: Instagram, Facebook, and Twitter
Dave Franco is active on Facebook. His official page (@DaveFranco85) has over 2 million followers with well over 1.3 million likes. It is rumored that he deleted his Instagram account and as of now, he does have a lot of fan-made accounts dedicated to him but he does not have an official Instagram or Twitter account.
Career
Movies
Dave Franco gave his debut performance in the year 2006 when he played the role of A.J. in the short movie, 'Frat Bros'. Following this role, he went on to play the role of Greg the soccer player in the 2007 American coming of age teen comedy movie, 'Superbad' with Michael Cera, Joe Lo Truglio, and Emma Stone, the role of Sam in the 2007 American romantic comedy-drama movie, 'After Sex', a small role in the 2008 American biographical movie, 'Milk' and the role of Mark in the 2009 American horror movie, 'The Shortcut'. The same year, he debuted as an executive producer and also starred as Michael in the 2009 movie, 'A Fuchsia Elephant'.
Moreover, he has also played the role of Rich in 'Greenberg' and Sully in 'Charlie St. Cloud' in the year 2010, of young Hart Crane in 'The Broken Tower' and Mark in 'Fright Night' in the year 2011, of Dave in 'Would You' and of Eric Molson in '21 Jump Street' in the year 2012, of Perry Kelvin in 'Warm Bodies' and Jack Wilder in 'Now You See Me' in the year 2013, of Wally in 'The Lego Movie', of Pete Regazolli in 'Neighbors' and Eric Molson in '22 Jump Street' in the year 2014 and Mike Pancake in 'Unfinished Business' in the year 2015.
Likewise, he has also starred in movies like 'Neighbors 2: Sorority Rising', 'Now You See Me 2' and 'Nerve' in the year 2016, 'The Little Hours', 'The Disaster Artist' and 'The Lego Ninjago Movie' in the year 2017, '6 Balloons' and 'If Beale Street Could Talk' in the year 2018 and 'Zeroville' and '6 Underground' in the year 2019. Furthermore, his recent work came in the year 2020 when he worked as the producer, the writer, and the director of the 2020 American horror movie, 'The Rental'.
Television Shows
Dave Franco made his debut on television in the year 2006 when he played the role of Benjamin Bainsworth for an episode of an American family drama television series, '7th Heaven'. Likewise, he has appeared for an episode each in series like 'Community' in the year 2014 where he had an uncredited role, 'BoJack Horseman' in the year 2016 where he played the role of Alexi Brosepheno and 'Little Big Awesome' in the year 2018 where he played the role of Dave.
He has also had recurring roles in series like 'Do Not Disturb' and 'Greek' in the year 2008, 'Privileged', 'Scrubs', 'Young Justice', 'Other Space' and 'Easy' in between the years 2009 and 2019. Moreover, he is also said to star as Ed Poole and Xavier in the upcoming series, 'The Now' and 'The Afterparty' respectively.
Achievements and Awards
Dave Franco won the CinemaCon Awards' Breakthrough Performer of the year award in the year 2016, MTV Movie and TV Awards' Best Duo award alongside Zac Efron in the year 2015, and the Young Hollywood Awards' Fan Favorite award in the year 2013.
Net Worth
As of the year 2020, Dave Franco has an approximate net worth of $10 million.
Tags
Others