About Willem Dafoe
Willem Dafoe is a professional and talented actor from America who has won millions of hearts through his outstanding acting. He has been feeding his fans with multiple hit films for a long time now. He has also received 4 Oscar nominations for his films' performances, including 3 Golden Globe Awards. We will be seeing more of his amazing performances in the coming years.
| Quick Infos | |
| --- | --- |
| Full Name | William James "Willem" Dafoe |
| Date of birth | 22nd July of 1955 |
| Birth Place | Appleton of Wisconsin state |
| Parent(s) | Muriel Isabel and Dr. William Alfred Dafoe |
| Occupation | Actor |
| Partner | Giada |
| Sun sign | Cancer |
| Net worth | 40 million dollars |
Early life
Willem Dafoe was born on 22nd July of 1955 in a city called Appleton of Wisconsin state. His real name is William James "Willem" Dafoe, and he is the son of Muriel Isabel and Dr. William Alfred Dafoe. He has 7 other siblings, and they all are successful doctors, nurse, and researchers while he chose a completely different path from his parents as they were a surgeon.
Dafoe attended the University of Wisconsin-Milwaukee for a year, where he studied drama. Then he dropped out of the university and joined the Theatre X company. He then moved to London to pursue acting professionally and was coached by Richard Schechner in New York. Dafoe then became a member of the experimental theatre called the Wooster Group.
Career
Film:
Willem Dafoe made his film debut in 1980 from the American epic Western film called Heaven's Gate. He played the small role of Willy. But in his second film debut, he starred as Vance in the film The Loveless in 1982. In 1986, he was nominated for Academy Awards for his performance in the film Platoon, which was the huge achievement any actress would dream of. In 1992, he won his first Sant Jordi Awards for Best Foreign Actor for his starring performance in the film Light Sleeper.
Dafoe made his next breakthrough in 2000 from the metafiction horror film Shadow of the Vampire, where he starred as Max Schreck. He received his second Academy Awards nomination, including multiple other nominations and Fantasporto's International Fantasy Film Award, Independent Spirit Awards, Los Angeles Film Critics Association Awards, and Satellite Awards.
In 2017 and 2018, Willem Dafoe made his net breakthrough from the film The Florida Project and At Eternity's Gate. In 2018, he received his third Academy Awards nomination and his fourth Academy Awards nomination in 2019. He also earned his second and third Golden Globe Awards nominations. Apart from that, he won multiple other awards and nominations for his performance in the movie. His other hit films are Spider-man 3, Fireflies in the Garden, Antichrist, Aquaman, John Carter, Togo, etc.
As of 2020, he works in 4 other films, namely The French Dispatch, Nightmare Alley, The Card Counter, and The Northman.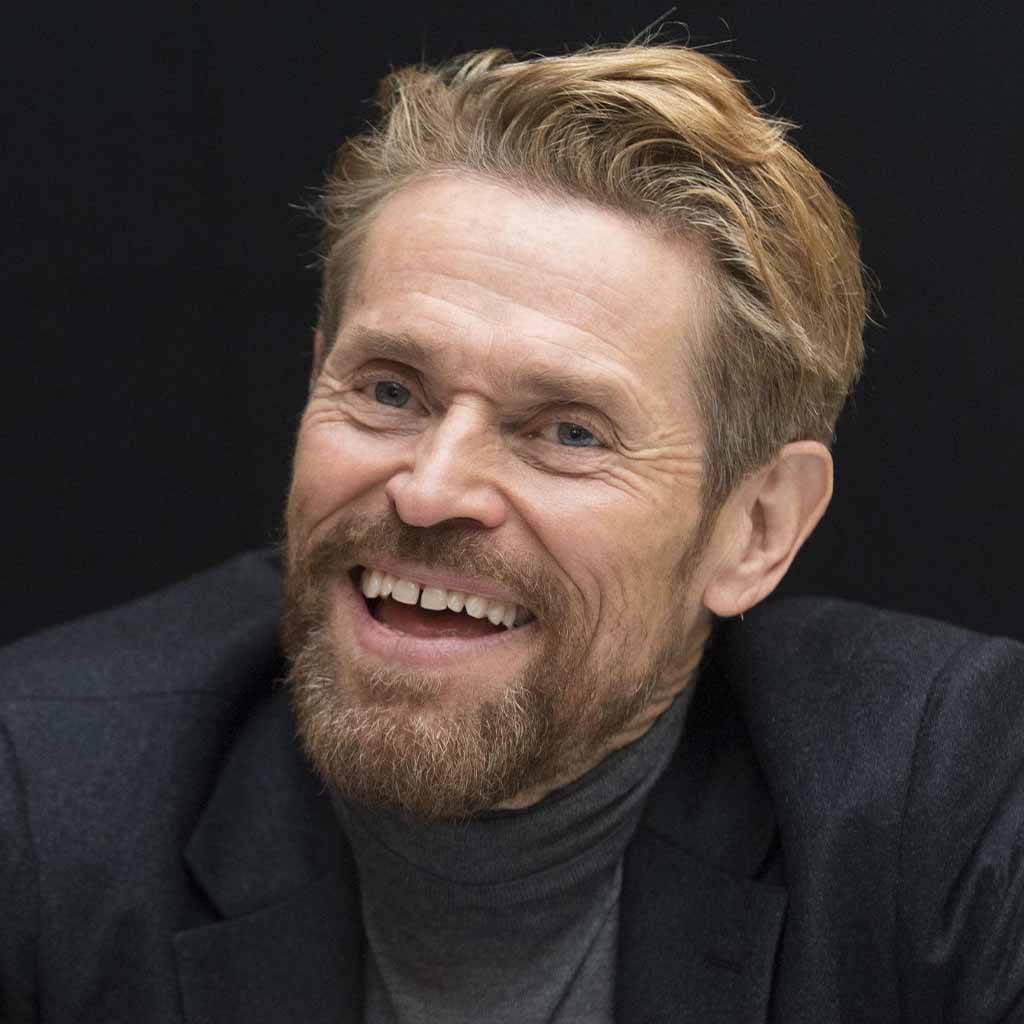 Television:
When it comes to television, Willem Dafoe has only made a few appearances. His first television appearance was in the mystery horror anthology called The Hitchhiker, where he portrayed the character of Jeffrey Hunt in an episode called "Ghostwriter" in 1986. His next appearance was in Fishing with John, where he appeared as himself in 1991.
Since then, he voiced the character, Lassen, in 2 episodes of an animated sitcom called The Simpsons. He then voiced the character Hunter in the animated tv film called Globehunters in 2000. He then continued narrating for the American Experience's television program in 2010 and later in PIIGS's documentary in 2017.
Dafoe has also voiced various video games, including Spider-Man, Finding Nemo, James Bond 007: Everything or Nothing, Beyond: Two Souls, and 12 Minutes.
Personal life
Willem Dafoe is a committed man. He tied his knot with Giada, an actress, director, and screenwriter, after a year of dating in 2005. They had a small wedding of their own with only 2 close friends who stood as their witnesses. They don't have children of their own yet, but Dafoe has a son named Jack Dafoe from his past relationship with Elizabeth LeCompte, a theatre director. Talking about his past love life, he was in a relationship with Wendy Witt in 1970, which ended in 1972. He then dated Elizabeth LeCompte starting 1977, which lasted for 27 years. In 2003, he then had a fling with actress Mira Sorvino.
Physical statistics & others
Willem Dafoe is 65 years old as of 2020. He is actively releasing hit films one after another, and nothing is stopping him even his age. He has a slim body build having a height of 5 feet and 9 inches with a bodyweight of about 78 kg. His chest is 42 inches, and biceps of 13.5 inches with a waist of 38 inches. When it comes to his physical health, he has a strictly organic diet. He was a vegetarian before, but he started a non-veg diet. He practices yoga daily.
Willem Dafoe belongs to the white race, and he has Irish, Scottish, French, German, and English ancestry. He possesses fair skin and blue eyes. He has dark brown hair, which he prefers to keep short. His distinctive features are his gapped tooth. His gravelly voice and deep lines face are one of a kind. His sexual orientation is straight. His nationality is American. His sun sign is Cancer.
Net worth
As of 2020, Willem Dafoe's net worth is estimated to be around 40 million dollars. As a successful actor, it is common for him to earns such millions at his age. He has also endorsed various brands like Prada, and he has appeared in several commercials for Buick Century, Jaguar Cars, Steinlager Pure, 2014 Mercedes Benz CLA, and others. We can be assured that his net worth is guaranteed to rise in the coming years as he has not shown any sign of stopping his successful career yet.
Tags
Others