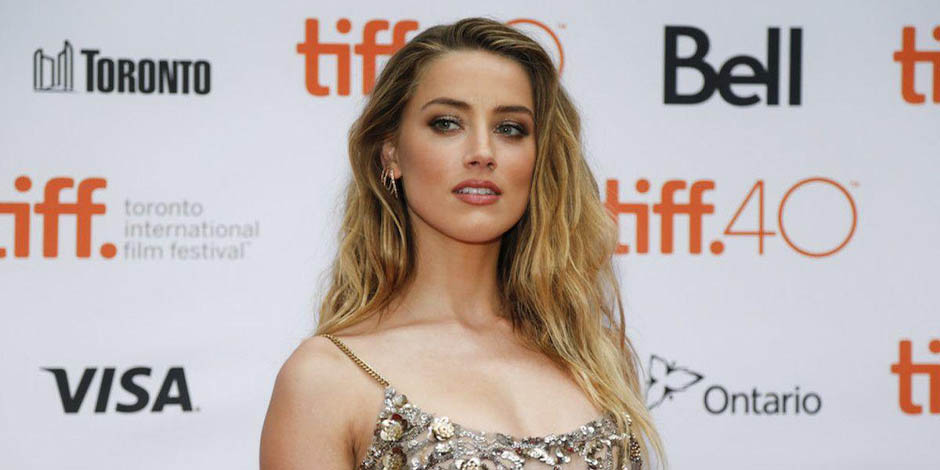 Amber Heard, who is best known for her performance in films like "Never Back Down," "Pineapple Express," and "The Adderall Diaries," is an American actress and a model. She gained further fame and international fans after she acted in the role of Mera in DCEU films "Justice League" and "Aquaman."
She has continuously been in the media due to her relationship with her ex-husband Johnny Depp. She is also well-known for her LGBTQ and sexual violence-related activism.
Quick Info
Full Name
Amber Laura Heard
Date of Birth
April 22, 1986
Birth Place
Austin, Texas, U.S.
Parent(s)
Patricia Paige and David Clinton Heard
Occupation
Actress, Model
Spouse(s)/Partner(s)
Johnny Depp
​​(m. 2015; div. 2017)
Tasya van Ree (2008–2012
Net Worth
US $22 million
Early Life
Amber Heard's full name is Amber Laura Heard. Amber was born to parents Patricia Paige and David Clinton Heard on April 22, 1986, in Austin, Texas. Her younger sister is named Whitney. Her mother worked as an internet researcher, and her father was the owner of a construction firm.
While growing up right outside Austin, she rode horses, went hunting and fishing with her father. She became an atheist after her friend died in a car crash when she was 16.
She moved to NYC when she was 17, after dropping out of her school. Later, she acquired a diploma through home-schooling. After living in NYC, she moved to L.A. to become an actress. While in New York City, she worked as a model. 
Career
Amber Heard started her film career in 2004 with the film "Friday Night Lights." In it, she played the role of Maria. The following year, she acted as Shay in "Side F.X.", as Candy in "Drop Dead Sexy" and as Jose Aimes' younger version in "North Country." In 2006, she did three films.
She acted in the role of Trish in "Price to Pay." In the crime drama film titled "Alpha Dog," she portrayed the character of Alma followed by the starring role of Mandy Lane in "All the Boys Love Mandy Lane." She acted as Amber in the comedy film "Spin" in 2007.
The same year, she worked as the character named Mary in the short film "Day 73 with Sarah."
In 2007, she also appeared in the film "Remember the Daze," in which she acted as Julia Ford. In the martial arts film titled "Never Back Down," she starred in the role of Baja Miller. The same year, she starred as Christie in "The Informers."
In the comedy action film called "Pineapple Express," she acted in the role of Angie. 2009 saw her appear in 4 movies. In the black comedy film called "The ExTerminators," she portrayed Nikki. She starred as Jenn Jones in the film "The Joneses." The same year, she appeared as 406 in "Zombieland" and as Kelly Porter in "The Stepfather." 
In 2010, Amber Heard co-produced "And Soon the Darkness" and acted as Stephanie in it. The same year, she played the role of Eddy in "The River Why" and Kristen in "The Ward."
In 2011, she acted in the comedy-drama film called "The Rum Diary." She worked in the role of Chenault. The same year, she played Piper in "Drive Angry." In 2013, she appeared as Six in "Syrup" and also was an executive producer for the film.
She acted as Emma Jennings in "Paranoia" and as Miss Dan Antonio in "Machete Kills" the same year. She played the role of Agent Vivi in the action film called "3 Days to Kill" in 2014.
The following year, she appeared in "The Adderall Diaries" as Lana Edmond, in "One More Time" as Jude, in "Magic Mike XXL" as Zoe, and in "The Danish Girl" as Ulla Paulson. In 2017, she appeared in the "Justice League" as Mera.
This role helped increase her popularity among superhero film fans worldwide. She reprised this role in 2018 for the film "Aquaman." She is to appear as Mera in 2021 in the movie "Zack Snyder's Justice League." 
Amber Heard made her T.V. debut in 2004 and appeared in "Jack & Bobby" as Liz and Riley in "The Mountain." The following year, she played the role of a salesgirl in an episode of "The O.C.."
I'm 2006; she acted in the role of Lila Archer in an episode of "Criminal Minds." In 2007, she played Greta Matthews for eight episodes of "Hidden Palms." Four years later, in 2011, she played the role of Bunny Maureen in 8 episodes of "The Playboy Club." In 2015, she acted as Serena in "The Prince." Her most recent role in 2020 is that of Nadine Cross in "The Stand." 
Personal Life
Amber Heard is agonistic and came out in 2010. Although she doesn't want to put a label on her gender, as to her, a person matters more than gender.
From 2008 to 2012, she dated Tasya van Ree. She was married to Johnny Depp from 2015 to 2017. Their marriage ended in a nasty divorce with allocations of assault and abuse. After this, she dated Elon Musk briefly. 
Height, Weight, and Age
Amber stands 1.7 meters tall and weighs approximately 55 kg. As of September of 2020, she is 34 years old. 
Social Media
Amber Heard is active on social media platforms like Facebook, Instagram, and Twitter. She has 902.3k followers on Facebook, 3.9 million followers on Instagram, and  147.1k followers on Twitter. 
Net Worth
Amber Heard had an estimated net worth of US$ 22 million as of September 2020. She makes most of her fortune from acting in films and T.V. shows. She also acquired a lot of money from Johnny Depp in the form of a divorce settlement. 
Check out some interesting facts about Celebrity careers, Relationships, Lifestyle, Net worth, and many more on Global Stardom.
Tags
Others