Steve Blum is a professional voice actor from the United States. He is famous for his fantastic voice acting skills and unique deep voice. His are includes video games, anime, and animated films. He also holds the Guinness World Record for Most Prolific Video Game.
Quick Info
Full Name
Steven Jay Blum
Other Names
David Lucas, Roger Canfield, Richard Cardona and Andrew Watton.
Date of Birth
April 29, 1960
Birth Place
Santa Monica, California, U.S.
Height
5' 11"
Weight
64 kg
Occupation
Voice Actor
Spouse(s)
Mary Elizabeth McGlynn
(m. 2017)
Zodiac
Taurus
Ethnicity
Caucasian white
Nationality
American
Net worth
US $4 million
What was Steve's childhood like?
Blum was born on 29th April of 1960, in the city called Santa Monica of California states. His real name is Steven Jay Blum, but his nickname popularly knows him. He also has other names like David Lucas, Roger Canfield, Richard Cardona, and Andrew Watton.
Steve Blum is Jewish, probably because his parents were one. His parent's and siblings' name are yet to be identified as Blum himself prefers to be silent regarding his family matters. There is also no information about his high school and university. He is currently working under the agent Arlene Thornton and Associates.
Career
Anime:
Steve Blum has voiced countless Japanese animated films and series, also known as anime. His first anime was Guyver Bio-Booster Armor, where he said the character Agito Makishima and Thancrus. The same year, he also dubbed for Nexx and Lord Feff in the Super Dimensional Fortress Macross II: Lovers Again. The following year, he continued voicing for other anime films like Giant Robo, Ambassador Magma, Moldiver, Hyper Doll, Perfect Blue, and Bastard!!. He then expressed for the main character Spike Spiegel for the hit anime Cowboy Bebop in 1999.
He has voiced for much successful anime like The Big O, S-CRY-ed as Kazuma, Naruto in the voice of Orochimaru, and other characters, Durarara!!, Boruto: Naruto Next Generations, Demon Slayer: Kimetsu no Yaibu, and Ghost in the Shell: SAC_2045.
Animation:
Steve Blum has also voiced in many hit animated films, including Marvel animated films The Spectacular Spider-Man, where he expressed for the villain Green Goblin, Chameleon's other characters. He also voiced the main character James "Logan" in the Wolverine and the X-Men in 2008. In 2009, he voiced for the animated film G.I. Joe: Resolute, and the same year, he stated for the character Wolverine and Abomination in the animated series The Super Hero Squad Show.
Steve Blum's other notable animation films and series include Batman: The Brave and the Bold, The Avengers: Earth's Mightiest Heroes, Transformers: Prime, The Legend of Korra, Ultimate Spider-Man, Hulk and the Agents of S.M.A.S.H, Avengers Assemble, Tangled: The Series and so on.
Film:
Steve Blum's first voiced for the feature film called Shadow Builder as the main character in 1998. Starting in the year 2000, Blum stated many different names in an American Japanese animated film called Digimon. He voiced for the character Poromon and others in Digimon: The Movie in 2000; he then voiced in Digimon: Revenge of Diaboromon, Digimon Tamers: Battle of the Adventurers, Digimon Tamers: Runaway Locomon, and Digimon Frontier: Island of Lost Digimon in 2005. He then voiced for the animated film like A Cat in Paris, the Boxtrolls, Stand by Me Doraemon, Bumblebee, Shazam!, Promark, and Dragon Quest: Your Story.
Television films:
Steve Blum's voiced the main character Goku in the television series Goku Midnight Eye in 1989. Since then, he has voiced other Tv series like Sakura Wars: The Movie, Cardcaptor Sakura Movie 2: The Sealed Card, Final Fantasy VII: Advent Children. In 2015, he voiced the character Third Tsuchikage Ohnoki in the hit animated film The Last: Naruto the Movie. His other significant works are Dante's Inferno: An Animated Epic, Hulk Vs., Justice League with Diane Lane, Joe Morton, and Benjamin Bratt, and its series, Tokyo Revelation, Green Lantern: Emerald Knights, Street Fighter Alpha: The Animation, Batman: Bad Blood, Justice League: War, and so on.
Video games:
Steve Blum received his first nomination in 2011 after voicing for the Bulletstorm shooting game for the character Grayson Hunt. He was nominated for NAVGTR Award for the Lead Performance in a Comedy. He has voiced a countless number of characters in numerous video games. Some of the famous games are Mortal Kombat X, Transformers: Devastation. Final Fantasy XV, Lego DC Super Villians, Mortal Kombat 11, Marvel Ultimate Alliance 3: The Black Order, The Amazing Spider-Man 2, Deadpool, etc.
Personal life
Steve Blum is committed to a fellow voice actress, director, and singer named Mary Elizabeth McGlynn. They tied their knot in 2017, and they together had a son named Jeremy Blum and Brandon Blum. His oldest son Jeremy is currently working as a teacher.
Steve Blum is active on Instagram, and he has over 67.9 thousand followers. He is also an active Twitter user and has over 120.2 thousand followers. He can be connected by @blumspew in both of his accounts. His social media is flooded with the animated character that he has voiced for, and most of it includes Japanese names. Looking at his social status, he seems pretty busy with his work and career.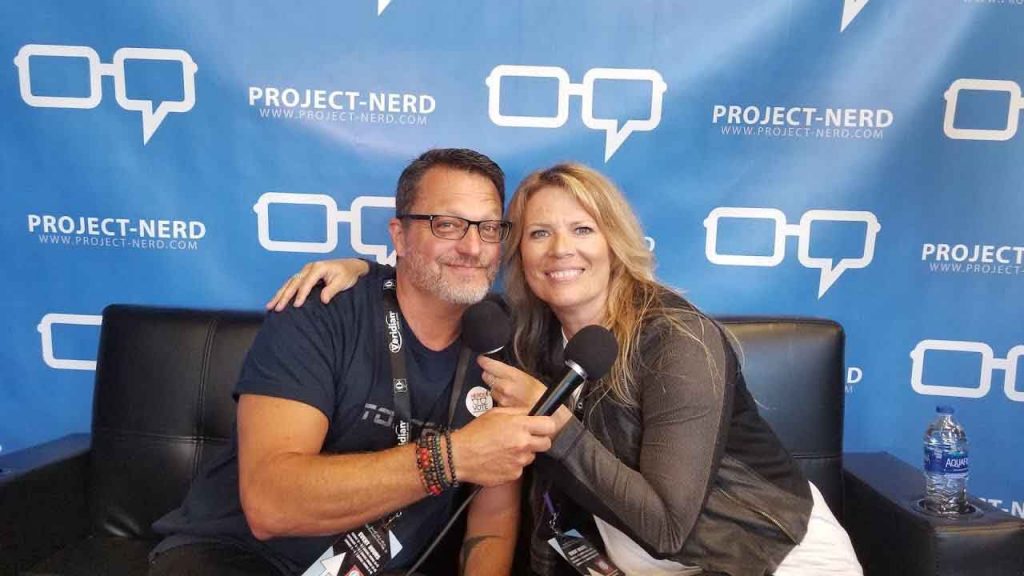 Physical statistics & others
Steve Blum has a height of 5 feet and 11 inches with a bodyweight of about 64 kg. He has a mesomorph body build. He possesses brown hair and a gray eye.
Blum belongs to Caucasian white ethnicity, and his sexual orientation is straight. His zodiac sign is Taurus. He follows the Christian religion.
How much is the Current Net worth of Steve?
As of 2020, Steve Blum's net worth is estimated to be around 4 million dollars. he is a successful voice actor and solely earns from voice acting. He has recently started working as a voice acting coach, and we can bet that he makes no less from his teaching.
Check out interesting facts about Celebrity's Career, Relationships, Net Worth, Lifestyle, and more on Global Stardom.
Tags
Others