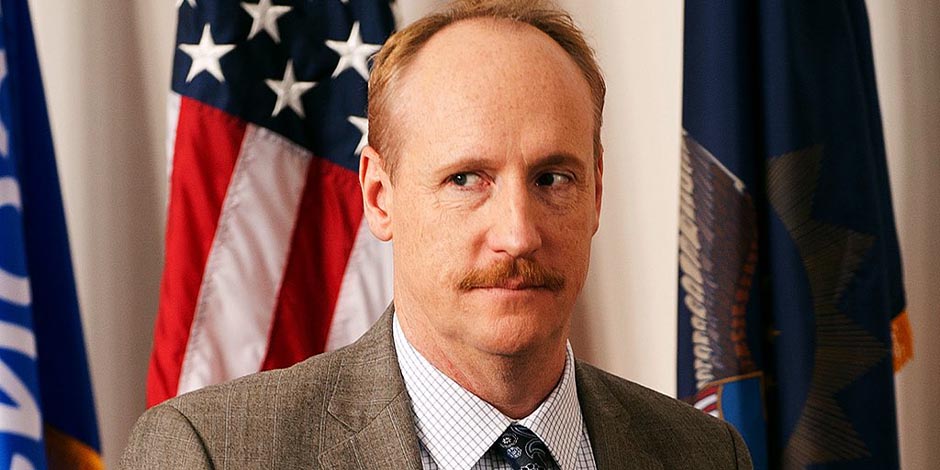 About Matt Walsh
Matt Walsh is a well known American comedian, actor, director and writer who were popularly known for his role in a series "Veep". Walsh has been seen working actively from the year 1992 to till now.
| Quick Info | |
| --- | --- |
| Full Name | Matt Walsh |
| Date of Birth | October 13, 1964 |
| Birth Place | Chicago, Illinois, U.S. |
| Parent(s) | Dick Walsh and Audrey Walsh |
| Occupation | Comedian, actor, director, writer |
| Spouse(s) | Morgan Walsh (m. 2009) |
| Net worth | US $1.5 million |
Personal Life and Relationship
Matt Walsh was born on October 13, 1964, in Chicago, Illinois, U.S. as a son of a mother, Audrey Walsh and father, Dick Walsh. Walsh is the fourth son among seven children of their parents.
Matt Walsh married to Morgan Walsh in the year of 2009, and they gave birth to their three children where two of them are son Jude Walsh and Emmet Walsh, and one is daughter, Celia Walsh.
Nationality and Physical Stats
Matt Walsh holds an American nationality and belongs from Irish, Slovenian, English, Scots-Iris, Dutch, African ethnic background. He is currently 56 years old with a height of 1.82 m and a weight of 75 kg. As he was born on October 13, his zodiac sign is Libra.
Early Life and Education
In his early life, Matt Walsh used to play football with a team as a backup tight when he was in high school level. Later, he went to join at Northern Illinois University, and then he became able to graduate with a degree in Psychology. He also used to study in abroad in Austria where he attended Salzburg college.
Career
Matt Walsh had taken the classes at improvisational comedy theatre which was located in Chicago and then he was seen regularly performing at the Annoyance Theatre as well as in ImprovOlympic. Further, he had met Matt Besser who is also known as a comedian where Walsh started to perform stand-up comedy with him. He was also known as a founder of Upright Citizens Brigade which is known as an improvisational and sketch comedy group.
Television Career
From the year 1996, Matt Walsh had started his television career after providing his voice in a television series "Escape from It's a Wonderful Life". After that, he was able to become a cast member in 3 episodes of Saturday Night Live (SNL) where he had been seen playing the roles of Angry dad, Construction Worker and Hidden Camera Victim. Further, he was seen in an American late-night talk show "Late Night with Canon O'Brien" from the year 1996 to 2004.
In 19997, he appeared as Iron Stomach in the two episodes of MTV sitcom, sketch comedy and stand-up television series "Apartment 2F". After that, he was seen working at Upright Citizens Brigade, which was from the year 1998 to 2000.
Likewise, he was seen appearing at an American comedy television series "Strangers with Candy" as Banker and Doctor Robots in the episode of "Yes You Can't". later, he appeared as an old man in the series" Late Friday" where from the year of 2001 to 2002, he was seen in an American late-night talk as well as news satire television program "The Daily Show".
Also, Matt Walsh was seen appearing at "Cheap Seats without Ron Parker" as Gordon Sumner and at the same year, he was seen in an American television sitcom "Arrested Development" as The D.A. after that, he also showed himself in an American animated television series "O'Grady" as a voice actor where he had provided his voice-over Kevin's Dad.
 Further, he was seen appearing in a television series "Reno 911!" as Ranger Glen, in comedy television "Dog Bites Man" as Kevin Beeken, in a sketch comedy show "Human Giant", in a sitcom television series "Worst week", in the television sitcom "The Sarah Silverman Program", in spin-off-continuation "Little Britain USA and a sitcom "The League". He was also seen providing his voice over the character Ray in an adult animated television series "Aqua Teen Hunger Force".
Also, Matt Walsh was seen in a comedy series "Players", the sitcom "Party Down", in TV sketch comedy show "Nick Swardson's Pretend Time", in the television sitcom "Community", "sketch comedy show "Funny or Die Presents", in a comedy-drama television series "Hung", in dark comedy television series "Children's Hospital" and sitcom television "Outsourced'.
Besides that, he had also appeared in "Veep", "Parks and Recreation", "The Aquabats! Super Show!", "Drunk History", "Comedy Bang! Bang!", "How I Met Your Mother", "Bob's Burgers", "Brooklyn Nine-Nine", "Rick and Morty", "Playing House", "Hot in Cleveland", "Animals", "Last Week Tonight with John Oliver", "Teachers", "Black-ish", "Do You Want To See a Dead Body?", "Crazy Ex-Girlfriend", "Another Period", "The Good Fight", "Alex, Inc.", "No Activity", "Champaign ILL", "The Guest Book", "Weird City" and "Desus & Mero".
Film Career
Matt Walsh started his film career after he had been cast in an American absurdist comedy movie "Tomorrow Night" in the year of 1998. In the same year, he was seen appearing as Ted in the film "Talent", and after that, in 1999, he emerged into the movie "Fatty Drives the Bus".
In 2000, Matt Walsh was cast in an American road sex comedy movie "Road Trip". Also, he was seen playing the roles in various type of film "Martin & Orloff", "Pushing Tom", "Old School", "The Test", "Death of Dynasty", "Elf", "Brainwarp", "Bad Santa", "The Sensual Lover of Bindalele", "Starsky & Hutch", "Christmas with the Kranks", "School for Scoundrels", "Wild Girls Gone", "Dante's Inferno", "Lower Learning", "Be Kind Rewind", "Drillbit Taylor", "Semi-Pro", "Step Brothers", "Role Models", "Mystery Team", "I Love You, Man", "The Hangover", "The Goods: Live Hard, Sell Hard", "May the Best Man Win", "Cyrus", "Due Date", "Queens of Country", "Cherry", "Breast Picture" and "Freak Dance."
Later, he was seen in an American improvised comedy movie "High Road" which was co-written as well as directed by him. After that, he appeared in the film like "Ted", "Free Samples", "Queens of Country", "The Brass Teapot", "Movie 43", "Coffee Town", "Hits", "Into the Storm", "Sex Ed" and "Jason Nash Is Married". Also, he was seen playing the role of Patrick in the movie "A better Your", which was written as well as directed by him.
In the year of 2015, Matt Walsh was cast into the various movie including "Get Hard", "Bad Night", "Other People", "The Darkness", "The Do-Over", "Ghostbusters", "Wild Oats", "Keeping up with the Joneses", "Office Christmas Party", "Brigsby Bear", "A Futile and Stupid Gesture", "Family", "Life of the Party", "Under the Eiffel Tower", "Widows", "The Perfect Date" and "Unplugging".
Net Worth
The estimated net worth of Matt Walsh is $1.5 million.
Tags
Others