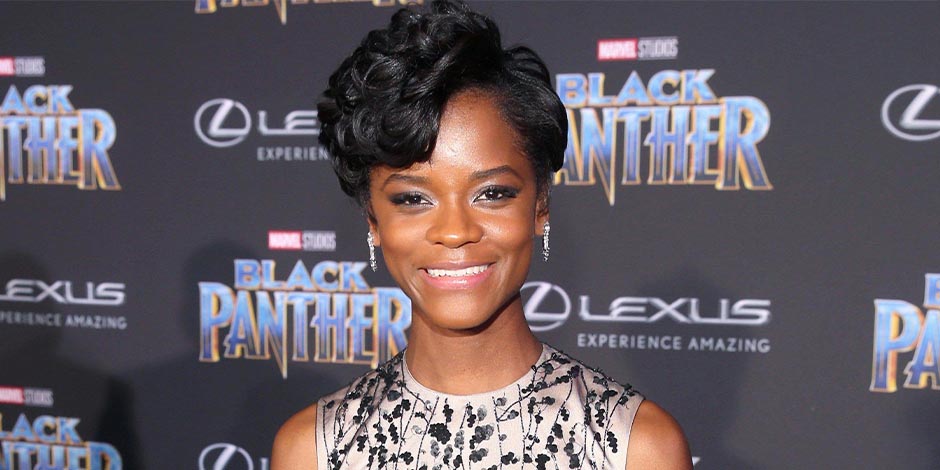 Letitia Wright is known for her performance in the movie "Black Panther," " Holby City," "Avengers: Infinity War," and drama series like "Humans as Renie." She is a fascinating personality to watch during her interview. The journey towards her stardom seems to be full of losing and finding herself.
| Quick Info | |
| --- | --- |
| Full Name | Letitia Michelle Wright |
| Date of Birth | 31 October 1993 |
| Birth Place | Georgetown, Guyana |
| Nationality | Guyanese-British |
| Occupation | Actress |
| Net Worth | US $4 million |
Early Life and Bio
The birthplace of Letitia Wright in Georgetown, Guyana. She came into earth on 31st October 1993. She, along with her family, migrated to London. Letitia was seven years old during that time. She attended school in London. She spent her childhood in Tottenham. Letitia was a delighted kid and used to do all kinds of crazy things for entertainment. In an interview, she shared that she used to make the buckets upside down and used the tree branches to play the buckets as a drum. Then, slowly she even started watching movies and learning dance moves from the videos of "Back Street Boys."
Nationality and Physical Stats
The nationality of Letitia in Guyana. Her current age is 26 years. She belongs to the African-Guyanese ethnicity. Letitia has an average height of 5 feet 5 inches with a complimentary weight of 51 kg.
Education
More details about the academic part of Letitia are not exact. Despite this, we found that Letitia went to Northumberland Park Community School. It was in the school that she came to know about acting classes. Her teacher used to take acting classes after school. And she invited Letitia to the class. 
The first impression of the class for her was what that dancing around, and jumping thing was. Slowly she started enjoying it. Along with the team, she did a play on the occasion of "Black History Month." Letitia bagged the lead role in the play. It was from Rosa Parks. She needed to perform in an American accent; she was not confident about it at first. But she performed it very well and found it was cool.  She also attended the Identity School of Acting at the age of sixteen. 
Career
Letitia Wright started her official hunt for roles in the movies at the age of sixteen. She captured her picture in the bathroom and circulated it among the agents and all her CV stuff from the school. And some found it useful and found the charisma in her, and she started gradually increasing her thirst for hunting good work.
She started her professional acting career in the movie "Akeelah and the Bee" in 2006. This increased her thirst for acting more. Letitia was part of the series "Top Boy" and "Holby City" in 2011. Then, she appeared in "My Brother the Devil" in a small role in 2012. The British film magazine "Star International" recognized her for her performance and placed her as the "2012 Stars of Tomorrow."  
Letitia Wright got her first leading role in the movie "Urban Hymn" in 2015. This made Hollywood aware of her presence. She also appeared in the series "Doctor Who" in 2015. Letitia also was part of the series "Humans" in 2016. She was also involved in the theatre play during this time. Letitia played in the play "Eclipsed." It was staged at London's Gate Theatre. She also appeared in the series "Black Museum" in 2017. The impactful performance succeeded in earning nominations for the "Prime Time Emmy Award." It was for the category of "Outstanding Supporting Actress in a Limited Series or Movie."
Likewise, Letitia Wright succeeded in becoming part of the movie "Black Panther." It was a Marvel Cinematic Universe project. She shared the screen with Michael B. Jordan, Danai Gurira, Lupita Nyong'o, and Chadwick Boseman. The movie was a new experience for Letitia. She was not so much interested in comics. But the audition phase for the film made her more fascinated about the genre. Letitia came to know that her character Shiru had a significant arc in the comic books. Then, she discovered a new world that has so much to explore. She takes the opportunity as a blessing.
Letitia succeeded to won the "NAACP Image Award" for her performance in the movie. She reprised her role in the "Avengers: Infinity War" in the same year. 
Moreover, Letitia Wright succeeded in playing in the movie "Ready Player One" in the same year. This was the opportunity to work with Steven Spielberg. She shared in an interview her experience of meeting Steven for the first time. Everyone was hustling in the set after his arrival. And she found it excellent the way he came to her and introduced himself as Steven. She even won the "BAFTA Rising Star Award" in 2019. Letitia appeared in the musical movie "Guava Island" in April 2019. The same year, she was part of the film "Avengers: Endgame." Letitia's upcoming movie "Death on the Nile" and mini-series "Small Axe" are in the post-production phase. 
Personal Life
Letitia Wright is a career-focused girl. She is very busy in her professional life. Letitia seems to be conscious of her personal life. Likewise, there is no record of Letitia being in a relationship before. She is still single and has no history of getting engaged.
Social Media Presence
Letitia Wright is not active very much on social media platforms. She goes with the name of "@letitiawright" on Instagram with 2.1M followers and "@letitiawright" on Twitter with 369.7K followers. The Instagram account of Letitia is quite impressive. She has mentioned that she is neither available in TikTok, not Facebook but usually on Twitter.
What is Letitia Wright's Net worth?
Letitia Wright has been part of the industry for more than fifteen years. She has been part of movies, series, TV movies, and theaters. According to the evaluation of her projects and celebritynetworth.net, she has an approximate net worth of $4 million.
Check out interesting facts about Celebrity's Career, Relationships, Net Worth, Lifestyle, and more on Global Stardom.
Tags
Others