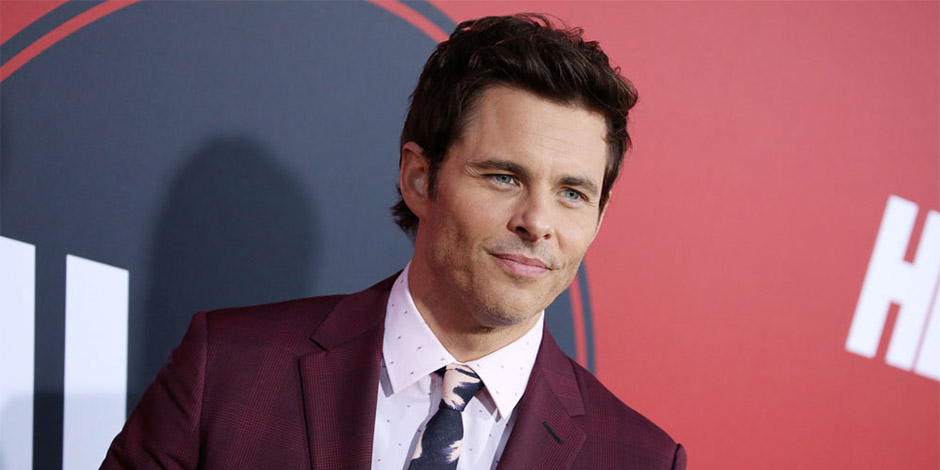 About James Marsden
James Marsden is talented and popular actor known for his role as the Marvel comic character Cyclops or Scott Summers in X-Men and it's series. He has also won the heart of the audience from the romantic film, The Best of Me and 27 Dresses.
Quick Info
Full Name
James Paul Marsden
Date of Birth
September 18, 1973
Birth Place
Stillwater, Oklahoma, U.S.
Parent(s)
Kathleen (née Scholtz) and James Luther Marsden
Occupation
Actor, Singer, Former Model
Spouse(s)/Partner(s)
Mary Elizabeth
​​(m. 2000; div. 2011)
Emma Deigman (present)
Net worth
US $8 million
Early life
Marsden was born on 18th September of 1973 in city called Stillwater of Oklahoma state in United States. Since, he was born and grew up in United States he belongs to American nationality. His full name is James Paul Marsden and his parents are Kathleen (mother) and James Luther Marsden (father). He grew up in middle class family where his father used to work in the LexiGene Industries as an advisor for the food safely and as for his mother, she was a nutritionist. He grew up with his other 4 siblings.
James Marsden didn't had much thought about joining the acting during his early years. He finished his schooling from the Hefner Middle School. He then joined the Putnam City North High School unlike every other normal student. He then continued his study in Oklahoma State University with a view to achieve degree in journalism but he soon dropped out of his university to achieve acting professionally.
Career
Television:
After dropping out from his university, James Marsden moved to L.A where he made his first TV debut in The Nanny where he portrayed the character of Eddie. The same year in 1993, he appeared in the TV film, In the Line of Duty: Ambush in Waco as Steven Willis and a small appearance in an episode called "Parental Guidance Not Suggested?" of Joe's Life.
He also appeared in the American teen sitcom, Saved by the Bell: The New Class. Following year, he appeared in Boogies Diner, Heavenly Road, Search and Rescue, Party of Five before landing the major role in the drama Second Noah. Marsden portrayed the character of Ricky Beckett and the series was premiered in 1996 and ended in 1997.
In 1997, James Marsden landed the starring role in the Tv film, On the Edge of Innocence as Jake Walker. He then appeared in the legal comedy drama Ally McBeal making recurring appearances as Glenn Foy in 2001. He then voiced for the lion in animated series, Robot Chicken.
In 2012, he appeared in another American satirical series, 30 Rock as Criss Chros then he was casted for the main role in science fiction series, Westworld where he portrayed the character of Teddy Flood. The series ended in 2018 and following year, he again appeared as the main cast in the dark web comedy series, Dead to Me. as of 2020, the series is still running as of 2020. He will next be appearing in the fantasy web series, The Stand in 2020.
Film:
James Marsden made his film debut in 1994 from the comedy film, No Dessert, Dad, Till You Mow the Lawn as Tyler Cochran. During his early years, before landing the role as Marvel superhero character, Cyclops in X-Men, he made his appearances in various other films namely Public Enemies, Campfire, Gossip. He continued on appearing in other X-Men series like X2 in 2003, X-Men: The Last Stand in 2006, X-Men: The Days of Future Past in 2014.
In 2004, he made his breakthrough by appearing in the novel based romantic film, The Notebook as Lon Hammond alongside, Rachel McAdams and Ryan Gosling. He then appeared in another successful animated musical film, Enchanted where he portrayed the character of Prince Edward in 2007. For his performance he achieved the nomination for Teen Choice Awards for Choice Movie Actor. He received his second Teen Choice Awards nomination for the film 27 Dresses in 2007.
In 2008, James Marsden's performance was highly praised as Rex Lafferty in the sex comedy film, Sex Drive although the movie didn't receive much credit. Since then, he has appeared in many films as the main role in Death at a Funeral, Hop, Straw Dogs, The Butler, The Best of Me and so on.
His upcoming film will be releasing on 2022 where he will be playing the character of Tom Wachowski in the sequel of Sonic the Hedgehog. He will also voice for Timothy Templeton in an animated film, The Boss baby: Family Business and it will release in 2021.
Personal life
James Marsden is currently in relationship with Emma Deigman but popularly known as Eddie, a musician. He is seen posting numerous pictures together in his Instagram even though he is 15 years older than his current girlfriend.
Marsden was previously married to the daughter of famous American songwriter, Dennis Linde named Mary Elizabeth. They were committed on 22nd July of 2000 which Marsden now considers that he was too young to be committed. She gave birth to their eldest son named Jack Marsden min 2001 who followed his father footstep and is now an actor as well as model.
She gave birth to their second child, a daughter named Mary James Marsden in 2005. Their relationship ended in 2011 and following year, Marsden started dating Brazilian model, Rose Costa and she gave birth to his third child, William Luca Costa- Marsden the same year.
James Marsden is active in Instagram with over 1.3 million followers. He cane be connected by @james_marsden. He is not a Twitter user but he has fan account by his name with over 21.3 thousand followers.
Physical statistics & others
James Marsden is handsome and attractive man. He possesses a tall height of 5 feet and 10 inches with the body weight about 75 kg. He has hazel eye and brown hair. He has fair skin and athlete body with the chest size of 42 inches, 32 inches wide waist and 15 inches biceps.
He belongs to white ethnicity and his birth sign is Virgo.
Net worth
As of 2020, James Marden has the net worth of around 8 million dollars. He earns his millions from film as well as from his modelling career.
Tags
Others