Cesar Milan fell in love with Ilusion Millan at first sight. Cesar's debut show, 'Dog Whisperer with Cesar Millan,' was produced by her. They subsequently married, and Ilusion began assisting the well-known dog behaviorist in all of his efforts. For six years, she was the President of Millan. Inc. Cesar and Ilusion split in 2016 after she felt him be quite judgmental.
| Quick Wiki | Ilusion Millan |
| --- | --- |
| Full Name | Ilusion Wilson Millan |
| Date of Birth | September 18, 1976 |
| Birth Place | N/A |
| Father | N/A |
| Mother | N/A |
| Profession | producer |
| Age | 45 |
| Nationality | American-Mexican |
| Net Worth | $10,000 per month. |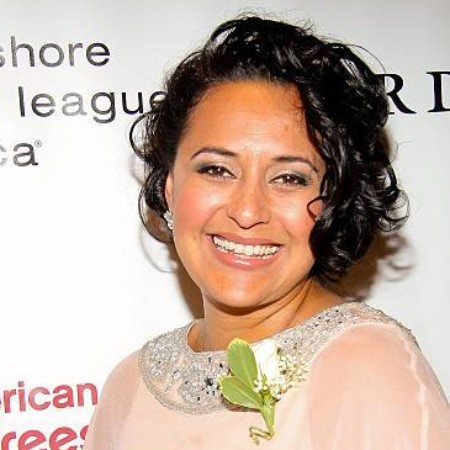 Who is Ilusion Millan?
The Ilusion Millan was the producer of her ex-famous husband's show Dog Whisperer with Cesar Millan. She is the mother of two children and the ex-wife of famous dog behaviorist Cesar Millan. Cesar was her first husband, whom she married in 1994 and divorced in 2016.
She assisted her ex-husband in the operation of Millan Inc. and worked as the company's President for six years. She was honored with the 'Hispanic Hero Award' in 2008.Ilusion is a Clinical Psychotherapist in addition to her involvement with her spouse in numerous projects and TV shows.
Early life and education 
According to Cesar's Twitter, Ilusion Millan was born into an American-Mexican family on September 18, 1976. However, according to numerous sources, her birthday is September 19.
She earned an Arts degree in Human Development and Family Studies from Pacific Oaks College in 2014. She graduated from Pepperdine University's Graduate School of Education and Psychology with a Master's degree in Clinical Psychology in 2018. She used to work as a preschool teacher when she was younger.
You might want to check out M Olivia Lagina
Career
Ilusion Millan produced Cesar Millan's reality show Dog Whisperer. It was a television show that rehabilitated and trained troubled dogs of all kinds and sizes. On September 13, 2004, the first season was released. The show lasted nine seasons and aired in 2016. Three 'Primetime Emmy Awards' were nominated for Cesar Millan's Dog Whisperer.
Ilusion aided, assisted, and became increasingly involved in Cesar Millan's career. She helped him run Millan Inc. and was the company's President from 2004 to 2010. She also created the 'Ilusion Collar,' which assisted in the control and training of problem dogs, particularly when they were attached to leashes.
Ilusion Millan received the 'Hispanic Hero Award' at the US Hispanic Youth Entrepreneur Education's second annual Hispanic Hero Gala in 2008. She is a Clinical Psychotherapist as well.
The first time she meets with her husband. 
When Ilusion was 17 years old, she met Cesar at an ice rink and immediately attracted him. Cesar was 23 years old, and he shared a one-room apartment with six dogs. He was unsure if he wanted to be in a relationship with Ilusion.
Cesar's friend also warned him that he could be imprisoned and deported if he dated an underage girl. It was the end of their romantic feelings for one another. "When I knocked and rang the doorbell, he stated he couldn't anymore. "It killed me," says the narrator, "Ilusion told Elle.
You might also want to check out  Tacoma Simmons
Relationship between Ilusion and Cesar Millan
Ilusion approached Cesar again after her eighteenth birthday. They also showed their affection for each other this time. Unfortunately, Ilusion became pregnant after only a few months, and Cesar proposed to her right after. In 1994, they married.
Cesar enjoyed tying knots with Ilusion, but he considered his wife a necessary burden rather than a reciprocal partner. Cesar's rural origins were known to Ilusion, and she felt him culturally distinct from her. But she was surprised to learn that he was so judgmental. "Cesar didn't know any better," she explained, "He was raised to believe that women were at the bottom of the food chain." Everyone, including the dog, is fed first."
Cesar ignored Ilusion when he returned home from the hospital. Instead, he stressed the significance of concentrating on his pets. Nevertheless, Cesar was soon bid goodbye by Ilusion. When Cesar begged her to return after crying over the phone, she stated she would only do so if he agreed to attend counseling with her. Even it, however, proved ineffective. In 2010, the couple filed for divorce, and it was finalized in June 2016. 
Ilusion Millan's Net worth 
Ilusion Wilson Millan has not released her exact net worth, nor has she stated what she is currently working on. However, Ilusion, the former celebrity wife and TV producer, may be engaged in some professional activity and earn a decent living.
Cesar consented to a divorce settlement that included a one-time payment of $400,000, a monthly payment of $23,000 to Ilusion, and a monthly child support payment of $10,000. Cesar Millan, Ilusion Millan's ex-husband, has a total net worth of $25 million, which he has amassed from his career as a dog trainer, author, and television personality. Ilusion receives 3,000 dollars, with child support payments of $10,000 per month.
Check out some interesting facts about Celebrities Careers, Lifestyles, Relationships, Latest Net Worth, Age, Height, and many more on Global Stardom. 
Tags
Others