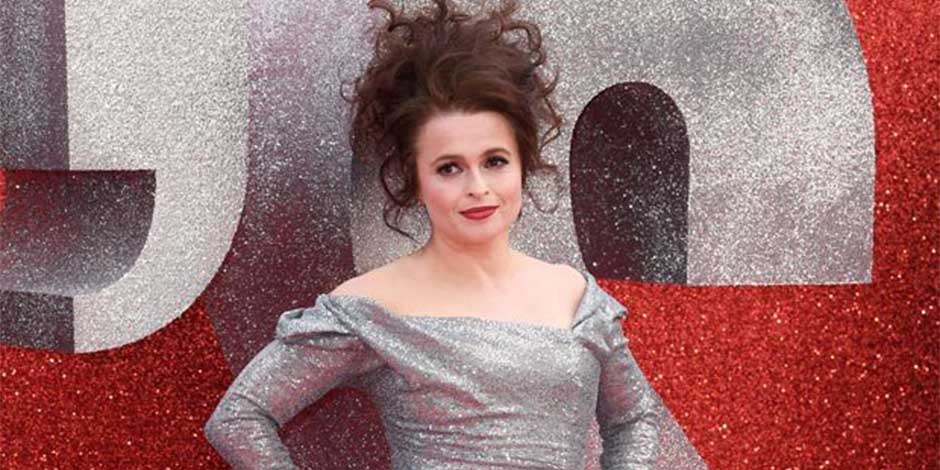 About Helena Bonham Carter
Helena Bonham Carter is an actress from England. She is well-known for her works in independent cinema and blockbuster films. Few of her widely recognized film role includes Bellatrix Lestrange in the Harry Potter film series, The Fairy Godmother in "Cinderella" and Eudora Holmes in "Enola Holmes." She has made appearances in "A Room with a View," "The Wings of the Dove," "Planet of the Apes," "Charlie and the Chocolate Factory," "Theatre Nights," "Henry VII," "Toast," and several other films and television series.
In over three decades, the fifty-four-year-old veteran actress has made more than 20 television roles and over sixty film roles. She has also acted in six theatre plays and has done voice roles in several radio plays/programs.
Quick Info
Full Name
Helena Bonham Carter
Date of Birth
26 May 1966
Birth Place
Islington, London, England
parent(s)
Raymond Bonham Carter (father)
Elena Propper de Callejón (mother)
Occupation
Actress
Partner(s)
Kenneth Branagh (1994–1999)
Tim Burton (2001–2014)
Rye Dag Holmboe (present)
Net Worth
US $60 million
Early Life
Helena Bonham Carter was born to Elena and Raymond Bonham Carter on 26th May 1966 in Islington. Her father, Raymond, was a banker while her mother is a psychotherapist. The Bonham Carter family is a prominent political family in Britain. Her father died in 2004.
She studied at South Hampstead High School and completed her A-levels from Westminster School. After her A-Levels, she applied to King's College but got rejected because of the college officials' fear of leaving the college midway to pursue an acting career.
Career
In Film
Helena Bonham Carter made her big-screen debut from the 1985 romance film "A Room with a View" as Lucy Honeychurch. It was her first lead role in a movie. The film was well-received by critics and did well in the box-office, collecting $21 million against a $3 million budget. Shen then portrayed Lady Jane Grey in the 1986 romance drama "Lady Jane." The film failed severely in the commercial market.
She then made appearances in "Maurice," "A Hazard of Hearts," "Francesco," "Getting it Right," and "Hamlet" until 1990. In 1991, she made an appearance in "Where Angels Fear to Tread" as Caroline Abbott and voiced White Bear in the animated film "Brown Bear's Wedding." She acted as Elizabeth Frankenstein in "Mary Shelley's Frankenstein" and Marina Oswald in "Fatal Deception: Mrs. Lee Harvey Oswald" in 1994.
From 1994 to 2000, she starred in "Mighty Aphrodite," "Margaret's Museum," "Twelfth Night: Or What You Will," "The Wings of the Dove," "Sweet Revenge," "Fight Club," and a few other films. She played Ari in the 6th film of the Planet of the Apes film series titled "Planet of the Apes." The film was an average critical hit but managed to gross $360.2 million in the box-office.
Helena Bonham Carter had a cameo appearance in "Lemony Snicket's a Series of Unfortunate Events" as Beatrice Baudelaire. She also featured as Mrs. Bucket in the 2005 musical fantasy film "Charlie and the Chocolate Factory." In 2007, she portrayed Bellatrix Lestrange in the 5th film of the Harry Potter film series, "Harry Potter and the Order of Phoenix." The film was a massive hit grossing $942 million in the commercial market against a $200 million budget. She reprised the role in other Harry Potter films as well. The Harry Potter film series was a huge critical and commercial success. It has eight movies and a joint box-office collection of $7.7 billion.
Her other film roles include Miss Havisham in "Great Expectations," Dr. Clair in "The Young and Prodigious T.S. Spivet," Edith Ellyn in "Suffragette," Eleanor Riese in "55 Steps" and Eudora Holmes in "Enola Holmes." She has also done voice roles in "Dragonheart: Vengeance," "Sgt. Stubby: An American Hero", "Poles Apart," "The Gruffalo's Child," "The Gruffalo," "Corpse Bird," "The Petticoat Expeditions, "Carnivale" and Jeremy Hardy Gives Good Sex."
In Television
Helena Bonham Carter's television journey started from the 1983 television film "A Pattern of Roses" as Netty Bellinger." She acted in "Miami Vice" as Dr. Theresa Lyons for two episodes in 1987. The following year, she made an appearance in the episode "The Vision" of "Screen Two" as Jo Marriner.
She has made more appearances in television films than television series. Her television films include "Live from Baghdad," "Enid," "Toast," "Life's Too Short," "Salting the Battlefield," and a few others. She has also made appearances in "Saying Goodbye," "My Grandparents' War," "Codes of Conduct," "Love, Nina" and several other television roles. Currently, she is playing Princess Margaret in the ongoing historical television web series "The Crown."
In Theatre
Helena Bonham Carter saw in "The Tempest" as Miranda in 1987. The play was performed at the Oxford Playhouse. The following year, she portrayed Laura Fairlie in the Greenwich Theatre production of "The Woman in White." She has also made appearances in "The Chalk Garden," "The House of Bernarda Alba," "The Barber of Seville," and "Trelawney of the Wells.
Apart from film, television, and theatre, she has made appearances in a few music videos and has voiced several radio programs and radio plays.
Awards
From 1983 till present, Helena Bonham Carter got nominated for seventy-three award functions, including two Academy Awards and three BAFTA Awards. She has won thirty-five nominations, including one BAFTA and one International Emmy. She was honored with Commander of the Order of the British Empire in 2012.
Personal Life
Helena Bonham Carter was in a relationship with Kenneth Branagh from 1994 to 1999. She then dated Tim Burton and was with him from 2001 until 2014. Helena has two children with Burton. Currently, she is in a relationship with Rye Dag Holmboe. They have a 21 years age gap between them. She belongs to Jewish, Spanish, and English ancestry.
She is a fluent French speaker and was listed in the Top 10 British Actresses in 2009.
Height and Weight
Helena Bonham Carter is 1.57 meters or five feet and two inches in height and weighs fifty-five kilograms.
Social Media
Helena Bonham Carter is not active in social media.
Net Worth
According to celebritynetworth.com, Helena Bonham Carter has an estimated net worth of $60 million.
Tags
Others