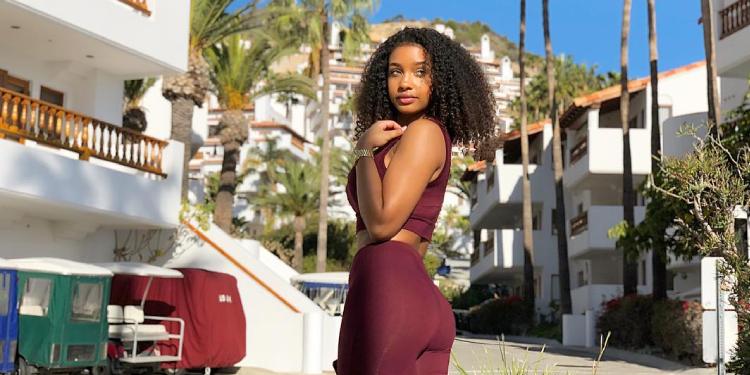 Corie Rayvon is a famous YouTuber, Model, and Actress who came in limelight after her relationship with web video star Khalil Underwood, a popular recording artist, comedian, and internet sensation.
Quick Wiki
Full Name
Corie Rayvon
Date of Birth
July 2, 1996
Birth Place
Houston, TX
Parent(s)
N/A
Occupation
YouTuber, Model and Actress
relationship status
single
Khalil Underwood (ex)
Age
24 years old
Weight
55kg (121lbs)
Height
5 feet and 5 inches (1.65m)
Nationality
American
Zodiac
Cancer
Ethnicity
Mixed
Net Worth
$1million to $3million
Early Life
The gorgeous vlogger, Corie Rayvon was born on July 2, 1996, in Houston, TX. Her parents called her with nickname "Pooie' or 'Poopie Doop' in childhood. The exact information about her parents, siblings, and their occupation is yet to be specified. She has black, white, and of Hawaiian descent. Her zodiac sign is Cancer.  She holds an American citizen and belongs to mixed ethnicity.
Physical description
Corie Rayvon is 24 years old American girl with a sexy curvaceous-shaped body. She has a good height of 5 feet and 5 inches which is 1.65m. Her weight is 55kg which is 121lbs. She has curly black colored hair and light brown colored eyes. Her brown skin tone glows her looks. Her body measurement is 36-28-42 inches. Her favorite color is pink.
Educational Qualification
Corie Rayvon is a graduate of Pearland high school. She graduated six months earlier from there and then became a friend with singer Jilly Anais. She also attended a nursing school in 2015. She might have gone to the local primary school in Houston. During her childhood, she always dreamt of becoming a Paediatrician or a veterinary doctor along with being a model.
What does Corie love?
Corie loves dogs. Actually, she is an ardent dog lover. She even owned a dog with Khalil. She is also fond of Mexican food. She says she is a low-key nerd and loves sausage pizzas. She likes reading books. She reads every day before going to bed. She loved singers such as Zendaya, Rihanna, etc
Her genre for shows is mostly documentary. She loves watching documentary shows. She explained how she was enjoying watching the 'Investigation discovery' documentary series 'Forensic Files'. She is terrible at texting and a computer nerd too. She enjoys editing videos and photos. He is a very quiet and mellow girl.
How did Corie Rayvon achieve fame through social media?
Corie Rayvon's career began when she moved to Los Angeles in 2015. After that, she created her own channel where she posts various reaction videos, pranks, and more dreamed of becoming an actor and model which encouraged her to move to a new city. Later on, she took an opportunity and began her career through social media. She was interested in makeup from her childhood after junior high school. She said she liked her prom night makeup which was done by her sister.
Through her YouTube channel, she entertains her fans. She even did a collaboration video with her very good friend and upcoming singer and social-media personality, Jilly Anais on January 9, 2016. Although her channel has not been able to create high subscribers and has very few videos surely her little fandom is in the stage of growth.
Corie created her YouTube channel on May 13, 2016, and posted the first video a week later. The name of her first video is 'My Curly Hair Tutorial.' Her viewers were in love with her gorgeous looks and amazing curls. After posting several pranks videos and reactions videos, Corie lost her interest in posting such videos and wanted to explore more new content. She then turned toward collaborations video.
How was Corie's relationship with Khalil?
Corie and Khalil have always been public about their relationship. Their relationship has always been the topic of media. They have always been in the spotlight. They even own a joint channel named Khalil And Corie, created October 18, 2017.
Nowadays, they rarely post such videos.  The couple announced their reconciliation and reference about their future projects, in 2018. They were also planning to create a gaming channel.
Khalil posted a video titled 'WHY WE BROKE UP!!! .' it was a collaboration video with Corie. It was posted from Khalil's channel two years ago. The video has over 657k views and 15k likes. They are still friends till now. Corie also has a video with Khalil on her channel titled 'I took my ex on a date.'
Net Worth
The talented young internet star, Corie Rayvon earns handsome money from her Youtube channel. Her latest net worth is estimated to range from $1million to $3million. In previous years she earned in the range of $100,000 to $1million.
Social Media
Corie Rayvon is active on Instagram with a username (@corierayvon) and has 978k followers. she has 655k subscribers on her YouTube channel now. Meanwhile, her ex-boyfriend, the Khalil channel has 118k subscribers on his YouTube channel.
Check out interesting facts about Celebrity's Career, Relationships, Net Worth, Lifestyle, and more on Global Stardom. 
Tags
Others