Alexander Ludwig is a well-known Canadian actor who had begun his career from a young age and actively worked as an actor from 2000 to now.
| Quick Info | |
| --- | --- |
| Full Name | Alexander Ludwig |
| Date of BIrth | May 7, 1992 |
| Birth Place | Vancouver, British Columbia, Canada |
| Parent(s) | Sharlene and Harald Horst Ludwig |
| Height | 6'2" |
| Weight | 88 kg |
| Occupation | Actor |
| Partner(s) | Lauren Dear (present) |
| Zodiac | Taurus |
| Ethnicity | Unknown |
| Nationality | Canadian |
| Net worth | US $3 million |
Where is Alexander born and raised?
Alexander Ludwig was born on 7 May 1992 in Vancouver, British Columbia, Canada as a mother, Sharlene, and father, Harald Horst Ludwig. His mother used to be a former actress where his father is a businessman and a former co-chair of Lionsgate Entertainment. He was the elder one among his three siblings. 
Alexander Ludwig holds Canadian nationality and belongs to German, Belgian, English, Scottish, German, and Jersey or Channel Islander.
How was the childhood of Ludwig like?
Alexander Ludwig used to love performing, and he also had a big dream from his childhood. He was interested in acting, so he took permission from his parents even though his mother used to be a former actress. His parents were worried as he was at an early age, and the reality would not be the same as he was thinking, but Ludwig made them support him for his career.
At the age of 14, he overcame depression, anxiety, alcoholism, and substance abuse. He had stated that he found himself new after sorting all the problems. 
Did Alexander go to college?
Later, he took a theatre major at the University of Southern California, where he used to be in the Phi Kappa Psi Fraternity. At that time, he lived in Los Angeles. 
Who is Ludwig dating?
He had dated Anna Sophia Robb, Isabelle Fuhrman, Leven Rambin, Nicole Marie Pedra, Nina Dobreva, and Lindsey Vonn to talk about his relationship. There was also rumored about dating Lauren Dear, but they had not mentioned their relationship yet.
Body Measurements
Ludwig is currently 28 years old, with a height of 6 feet 2 inches (188 cm) and 88 kg. He had got blonde hair with blue eyes. As he was born on 7 May, his zodiac sign is Taurus.
How did Alexander Ludwig started his career?
Alexander Ludwig started his career after being cast in Harry Potter toy commercials, which made him earn more commercial work. After that, he was seen doing an uncredited role in the movie "Air Bud: World Pup" in 2000, a direct-to-video comedy movie by Bill Bannerman. Later, in 2004, he was back in the film "MVP: Most Xtreme Primate" as a child.
Movies
Likewise, he provided voice over the character Jimmy in an animated movie sequel "Scary Godmother: The Revenge of Jimmy," directed by Gary Chalk and Dexter Bell. Later, he was seen in doing an uncredited role as Kevin in a Canadian movie, "Eve and the Fire Horse," directed by Julia Kwan.
Likewise, Alexander Ludwig also appeared in the movie "A Little Thing Called Murder," a comedy-drama television movie that was released n the year 2006, where he was seen in the role of Young Kenny Kimes. After that, he was seen as E.J. Needman in the movie "The Sandlot: Heading Home," directed by William Dear in 2007.
Later, he was seen in the role of Will Stanton in the movie "The Seeker: The Dark Is Rising," which is an American family drama-fantasy film and was released in the same year. Further, he appeared in the movie "Race to Witch Mountain," an American science fiction adventure thriller movie directed by the director Andy Fickman and released in 2009.
In the year 2012, he was seen playing the role of Cato in an American dystopian science fiction-adventure movie "The Hunger Games" which was directed by Gary Ross for which he had won the award for the Best Fight on 2012 MTV Movies Awards and also able to win the award for Best Villain at the 2012 Teen Choice Awards. Also, he showed himself in the movie "Grown Ups 2," which is a comedy movie by Dennis Dugan, where he was seen playing the role of Braden Higgins.
In the same year, he played the role of PO2 Shane Patton in an American biographical military action movie "Lone Survivor," based on the eponymous 2007 non-fiction book. Later, in 2014, he was cast as Chirs Ryan for an American sports drama movie "When the Game Stands Tall," directed by Thomas Carter.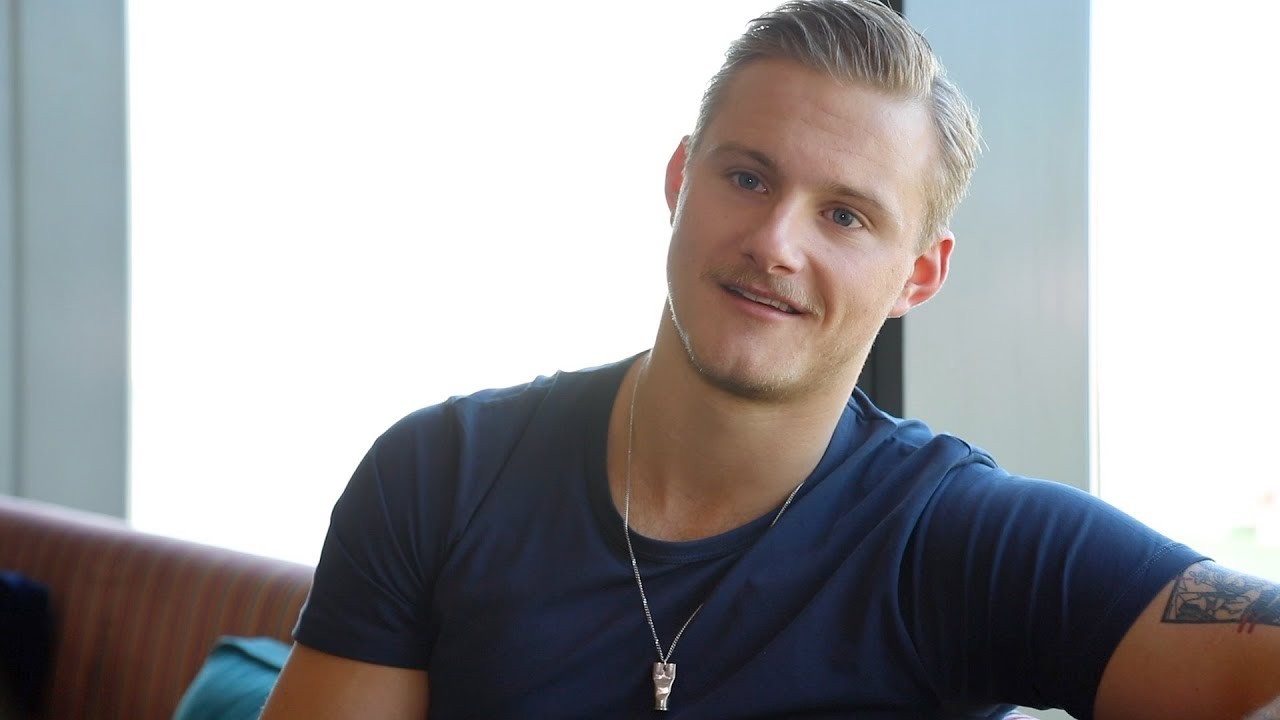 In 2015, Alexander Ludwig was cast into Jameson's character in an American action horror thriller movie by Tyler Shields, "Final Girl." In the same year, he played the role of Chris Briggs in an American comedy slasher movie, "The Final Girls," directed by director Todd Strauss-Schulson. Likewise, he was seen in another thriller movie, "Blackway" by Daniel Alfredson, where he had done Nate's role.
Later, he was seen in an American epic war movie "Midway," where he played the role of Lieutenant Roy Pearce, where the film was released in the year 2019. In the year 2020, he appeared in an American action-comedy movie sequel "Bad Boy for Life," which is the third installment in the Bad Boys trilogy where he was seen playing the role of Dorn.
In the same year, it was stated that he would be starring in the movie "Recon" as Marson, where it was also confirmed that he would be seen in the upcoming drama movie "Swing" as well as in the upcoming American thriller movie "Night Teeth."
Alexander Ludwig was also seen in a historical drama series Vikings with Donal Logue, which aired in 2014, where he was seen as Bjorn Ironside. In 2017, he appeared in another television series, "Swerve" as Dr. Delicchi. In a music video, he was also seen, "Gentle on My Mind," by The Band Perry in 2014. 
Net Worth
 The estimated net worth of Alexander Ludwig is $3 million.
Tags
Others