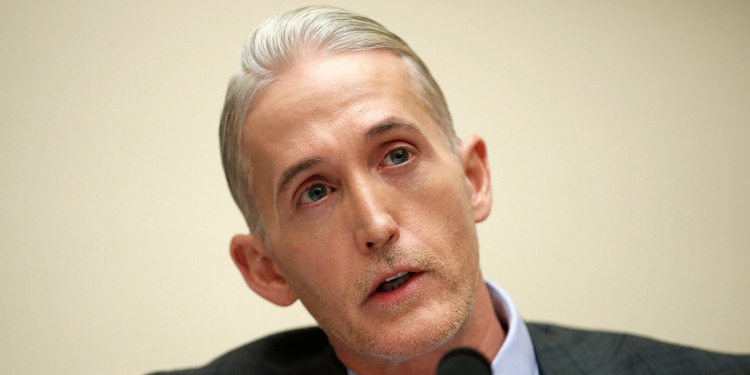 Who is Trey Gowdy?
Trey Gowdy is renowned as an American television news personality, former politician, and former federal prosecutor who worked as the United States representative for South Carolina's 4th congressional district from 2011 to 2019.
Trey Gowdy served as a federal prosecutor in the District of South Carolina from 1994 to 2000 and then as the solicitor for South Carolina's Seventh Judicial Circuit, comprising Spartanburg and Cherokee Counties, from 2000 to 2010.
Quick Wiki
Full Name
Harold Watson "Trey" Gowdy III
Date of Birth
22 August, 1964
Birth Place
South Carolina
Father
Harold Watson
Mother
Novalene Gowdy
Profession
Former Politician,
News Personality,
Former federal prosecutor
Age
57 years old
Weight
75 kg
Height
5 feet 8 inches
Nationality
American
Zodiac
N/A
Ethnicity
Caucasian
Body Measurement
N/A
Eye Color
Brown
Hair Color
Grey
Marital Status
Married
Wife
Terri Dillard
Children
Watson Gowdy and Abigail Gowdy
Net Worth
$3 million to $5 million
How old is Trey Gowdy?
Trey Gowdy was born in 1964 on August 22. He was born in Greenville, South Carolina. Trey is the son of Novalene (mother) and Harold Watson (father). Trey is 57 years old with the zodiac sign of Leo. Trey grew up in Spartanburg, where he delivered newspapers for the local daily and worked at the community market as a young man.
Trey Gowdy graduated from Spartanburg High School in 1982 and earned a Bachelor of Arts degree in history from Baylor University in 1986. Gowdy was a part of Kappa Omega Tau. Trey graduated Juris Doctor from the University of South Carolina School of Law in 1989.
Trey Gowdy Career
Trey Gowdy worked as Judicial law Cleark for John P. Garnder on the South Carolina Court of Appeals and federal judge G. Ross Anderson of the United States District Court for the District of South Carolina. In April 1994, Gowdy went into private practice at Nelson, Mullins, Riley, and Scarborough in Greenville, South Carolina, before becoming an Assistant United States Attorney. He received the Postal Inspector's Award for the successful prosecution of J. Mark Allen, one of "America's Most Wanted" suspects.
You might also want to know about Kate Bilo.
Trey left the United States Attorney's Office to run for 7th Circuit Solicitor in February 2000. Trey defeated Solicitor Holman Gossett, an incumbent, in the Republication primary, and he ran unopposed in the general election. He was re-elected from 2004 to 2008, both times unopposed. In addition, Trey was featured in four episodes of the television program Forensic Files and on Dateline NBC and SCETV.
Trey Gowdy prosecuted the set of criminal cases, seven of which were death penalty cases. In 2009, he published that he would challenge mandatory Republican U.S. Congressman Bob Inglis in the Republican primary for South Carolina's 4th congressional district. Trey ranked first with 39% of the vote, short of the 50% majority threshold to win outright and avoid a run-off in June 2010. He has also defeated Democratic nominee Paul Corden 63-29%.
Trey Gowdy was "disappointed" with the version, even though the redrawn 4th would have been as solidly Republican as its predecessor. After that, he was quoted as being "pleased" with this version since Greenville and Spartanburg counties remained linked. In 2012, Roll Call rated his district as Safe Republican. He easily secured a second term, defeating Morrow 65-34%.
Trey Gowdy ran for re-election in 2014. His opponent was libertarian Curtis E. McLaughlin. Trey was re-elected with 85% of the popular vote. He faced Democrat Chris Fedalei, a 26-year-old attorney, in November 2016. Gowdy defeated Fedalei with 67% of the vote to retain his seat.
Trey Gowdy was considered one of the GOP's most versatile and skilled legal experts, owing to his background as a federal prosecutor. He tackled high-profile investigations. Democrats criticized Gowdy for conducting his experiments in a partisan fashion. Trey defended the FBI and Special Counsel Robert Mueller's investigation into Russian interference in the 2016 election to the dismay of Trump supporters.
Trey Gowdy urged Deputy Attorney General Rod Rosenstein to wrap up the special counsel investigation by June 2018. In August 2011, he opposed Speaker John Boehner's debt limit bill and voted against the final debt ceiling agreement. Gowdy also opposed the 2011 defense authorization bill, citing concern about the prospect of Americans being detained without trial on national security grounds.
You might also want to know about Myrna Colley-Lee.
Trey Gowdy served on the Committee on the Judiciary, the Committee on Oversight and Government Reform, and the Committee on Education and the Workforce. In addition, he frequently spoke on the floor of the House on topics ranging from Operation Fast and Furious to his help with the reauthorization of the Violence Against Women Act.
Trey Gowdy wrote the Contract From America, which aims to receive, revoke, and recover the Patient Protection and Affordable Care Act; maximize the United States Environmental Protection Agency regulations; reform the federal tax code; pass a balanced budget revision; and end earmarks. In addition, he challenged President Trump's accusation, saying that the FBI spied on his 2016 presidential campaign in May 2018.
Several Trump allies attacked Trey Gowdy, and Politico reported that he was virtually alone, getting little support from his House colleagues. He suggested there was impropriety on the part of FBI agent Peter Strzok. He said that Strzok had shown bias in favor of Hillary Clinton and against Donald Trump during the 2016 presidential election in July 2018.
Relationships/ Dating/ Kids
Trey Gowdy is a happily married person. He has tied a knot with Terri Dillard. Terri is a former Miss Spartanburg and 2nd runner up for Miss South Carolina. The duo has two children, Watson Gowdy and Abigail Gowdy.
You might also want to know about Madeline Robbie Schneider.
Trey Gowdy's Social Media Presence
Trey Gowdy is active on his social media account. Trey is active on social media accounts like Instagram, Twitter, and Facebook. Trey amassed around 1.2 million followers on his Twitter, 131k followers on Instagram, and 1.4 million followers on Facebook.
How much is Trey Gowdy's net worth?
Trey Gowdy is renowned as an American television news personality, former politician, and former federal prosecutor. Trey has done such a great job in his career. In addition, Trey has gathered a decent amount of money throughout his career. Gowdy's estimated net worth is around $3 million to $5 million.
Check out some interesting facts about Celebrities' Careers, Lifestyles, Relationships, Latest Net Worth, Height, Weight, Age, Rumors, and many more on Global Stardom.
Tags
Others