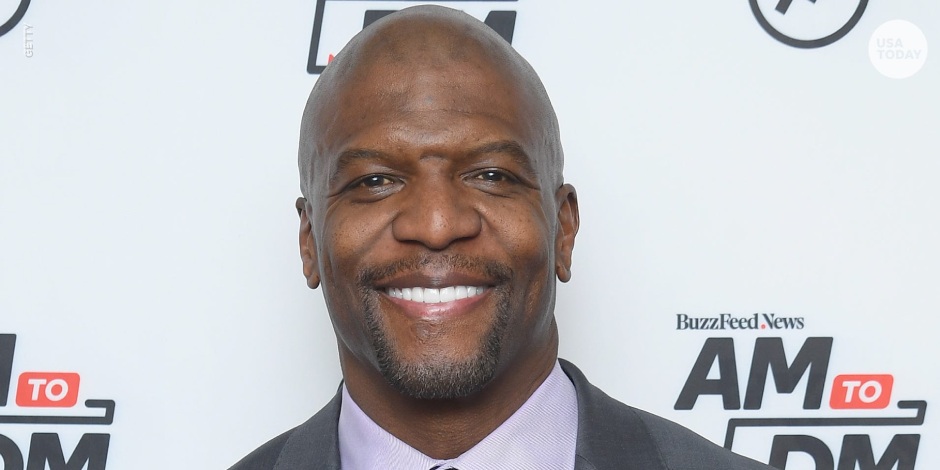 Terry Crews is an American actor, a comedian, an activist, an artist, a bodybuilder, and a former professional football player who stepped into the world of entertainment with the iconic appearance in the 'Old Spice' commercials. He is also a well-known figure in the National Football League (NFL) where he used to play as a defensive end and a linebacker for the professional American football team, Los Angeles Rams (a total of 6 games).
| Quick Infos | |
| --- | --- |
| Full Name | Terry Crews |
| Date of birth | 30 July, 1968 |
| Birth Place | Michigan, United States |
| Parent(s) | Patricia Crews and Terry Crews |
| Occupation | Actor, footballer, Comedian |
| Age | 52 |
| Height | 6ft 3in |
| Wife | Rebecca King |
| Children | 5 |
| Net Worth | $20 Million |
He also played the same position for two other professional American football teams, San Diego Chargers (a total of 10 games) and Washington Redskins (16 games). Besides his acting and sports career, Terry Crews is also an active public advocate who frequently works against sexism and for women's rights.
Where was Terry born and raised?
Terry Crews' full name is Terrence Alan Crews. He was born on 30 July 1968 in Flint, Michigan, the United States to his mother, Patricia Crews, and to his father, Terry Crews Senior who was an alcoholic and an abuse. He was raised mostly by his mother in Flint besides his sister whose name is Marcelle Crews. Besides this, he is currently 52 years old with the zodiac sign of Leo.
Terry Crew holds an American nationality and belongs to African-American ethnicity. He is a devout Christian and practices Christianity as his religion.
University
Terry Crews studied and completed his schooling at the Flint Southwestern Academy located in Michigan. For further studies, he studied and graduated from the Western Michigan University.
How did Crew start his career?
Terry Crews gave his debut performance in the year 2000 when he played the role of Vincent in the American science fiction action movie, 'The 6th Day' followed by an uncredited role of a gang member in the 2001 American crime thriller movie, 'Training Day'. He played the role of Vernon and Damon in the movies, 'Serving Sara' and 'Friday After Next' respectively in the year 2002 and also appeared in movies like 'Deliver Us From Eva', 'Malibu's Most Wanted' and 'BAADASSSS!' in the year 2003.
Likewise, he played in movies like 'Soul Plane' alongside Arielle Kebbel and Toby Kebbell, 'Starsky and Hutch' and 'White Chicks' in the year 2004, 'The Longest Yard' and 'Harsh Times' in the year 2005, and "The Alibi", 'Click', 'The Benchwarmers', 'Puff, Puff, Pass', 'Idiocracy' and 'Inland Empire' in the year 2006. Moreover, he played the role of Big Jack Latimore in the movie, 'Norbit', the role of officer DeGepse in the movie, 'How to Rob a Bank', the role of Tank in 'Who's Your Caddy?' and the role of Freddy in 'Balls of Fury'.
In between the years 2008 and 2018, he appeared in movies like 'Get Smart's Bruce and Lloyd: Out of Control', 'Terminator Salvation', 'The Expendables', 'The Expendables 2', 'Scary Movie 5', 'Cloudy with a Chance of Meatballs 2', 'VeggieTales: Celery Night Fever', 'The Single Moms Club', 'The Expendables 3', 'Sorry to Bother You' and 'Deadpool 2'. His most recent work came in the year 2020 when he played the lead role of John Henry in the American thriller movie, 'John Henry' and lent his voice for the role of Commander Melanoff in the Canadian American computer-animated comedy movie, 'The Willoughbys'.
Video Games
Terry Crews lent his voice for the role of Hale Caesar in the 2012 American action game, 'The Expendables 2' and for the role of Benjamin King in the 2013 adventure action game, 'Saints Row IV.' Moreover, he has also lent his voice and also motion capture for the role of Commander Isaiah Jaxon in the 2019 adventure action game, 'Crackdown 3'. 
Music Videos
Terry Crews has also appeared on numerous music videos. In the year 2004 and 2005, he appeared in Blink 182's 'Down', Bizarre's 'Rockstar' and Jamie Kennedy's and Stu Stone's Rollin with Saget'. Likewise, he has also appeared in Major Lazer'sScare Me', Kendrick Lamar'sThese Walls', Katy Perry'sSwish' and Muse'sPressure' and 'Algorithm' in between the years 2013 and 2018. His most recent appearance was in the year 2019 when he made an appearance on Brittany Howard's Stay High.
Wife and Kids
Terry Crews is married to Rebecca King from the year 1989. In between these years, the couple has been blessed with two sons whose names are Isaiah Crews and Wynfrey Crews, and three daughters whose names are Azriel Crews, Naomi Burton Crews, and Tera Crews.
Social Media
Terry Crews is active on social media platforms. His official Instagram account (@terrycrews) has over 7.4 million followers and his official Twitter account (@terrycrews) has over 1.6 million followers. Moreover, his official page on Facebook (@realterrycrews) has over 12.7 million followers with well over 8.1 million likes. Furthermore, he also has a YouTube channel (Terry Crews) with over 325 thousand followers and is also active on Twitch (@terrycrews) with over 97 thousand followers.
Body Measurement
Terry Crews has a wonderful height of 6 feet and 3 inches (1.91m/191cms) and measures around 111kgs (245lbs). Moreover, he has the physique of a bodybuilder with a pair of dark brown colored eyes. He likes to maintain a bald head so information regarding his hair color is unavailable.
What kinds of Awards have Crews Achieved?
Terry Crews was nominated for the Daytime Emmy awards in the year 2019 and the Screen Actors Guild Awards in the year 2015. Likewise, he has won numerous other nominations including the Teen Choice Award nomination and the IGN Summer Movie award nomination.
What is Terry Crews Current Net Worth?
As of the year 2020, Terry Crews has an approximate net worth of $20 million.
Tags
Others