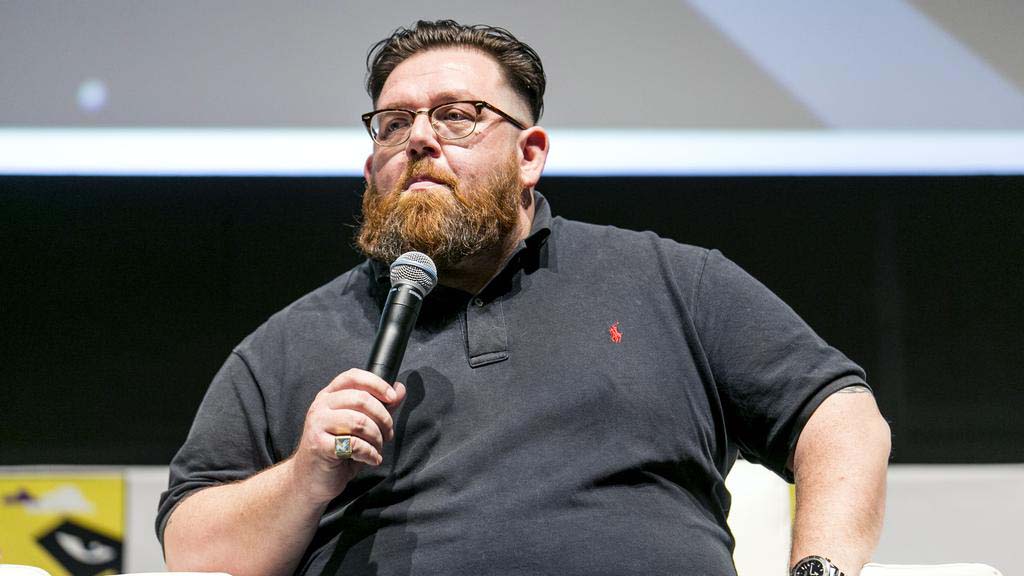 Who is Nick Frost?
Nick Frost is a British actor, comedian, producer, screenwriter, author as well as a painter who made his debut with the iconic and comedic role of Ed in the 2004 horror comedy movie, 'Shaun of the Dead'. He can also be seen in the Three Flavors Cornetto trilogy of movies, a movie series written by Edgar Wright and Simon Pegg which consisted of 'Shaun of the Dead', 'Hot Fuzz' and 'The World's End'.
Quick Info
Full Name
Nicholas John Frost
Date of Birth
March 28, 1972
Birth Place
Dagenham, United Kingdom
Parent(s)
Tricia Frost
John Frost
Profession
Actor, Comedian, Screenwriter, Painter, Author, Producer
Nationalty
British
Spouse
Christina Frost (2008-2013)
Net worth
US $16 million
Bio
Nick Frost's full name is Nicholas John Frost. He was born on 28 March 1972 in Dagenham, London to his mother, Tricia Frost, and to his father, John Frost who were both office furniture designers. Childhood was not easy for Nick as he lost his 18 years old sister due to an asthma attack when he was just ten years old and his parents' business could not thrive and this resulted in them losing their family home.
They were compelled to live with their neighbors and making situations worse, he had to witness his mother suffering a stroke as a result of the stress. Nick Frost also had to drop out of school and search for work in order to support his family financially. He worked in a kibbutz in Israel, a collective community in Israel that was mostly based on agriculture before working as a waiter in a Mexican restaurant in North London.
Here, things finally took a turn in Nick's life as he met Simon Pegg, an actor, director, and screenwriter with whom he became close friends and also eventually flat-mates. Simon helped Nick get his debut role as Ed in 'Shaun of the Dead' where Simon starred as Shaun Riley. Besides this, Nick Frost is currently 48 years old with the zodiac sign of Aries.
Nationality and Physical Stats
Nick Frost holds an English nationality and descends from English and possibly some other ancestry. He was born and raised as a Catholic but as an adult, he is now an atheist. Besides this, he stands at a height of 5 feet and 9 inches (1.73m/173cms) tall and weighs around 67kgs (148lbs). He has a pear-shaped body figure with a pair of brown-colored eyes and gray colored hair.
Education
Nick Frost studied in The King's School located in Southside, Wimbledon, and completed his high-school from the Beal High School located in Dundas Street, London. He is a graduate of the University of Gloucestershire, a public university in Cheltenham, England, and the University of Bristol, a research university located in Bristol, England.
Personal Life
Nick Frost dated his girlfriend, Christina Frost, and the two of them got married back in the year 2008. The couple was blessed with a son, Mac Frost but the relationship ended in the year 2013. He has not married anyone since then.
Social
Nick Frost is active on social media platforms. His Instagram account (@friedgold) has over 417 thousand followers and his Twitter account (@nickjfrost) has over 1.3 million followers. Moreover, his official page on Facebook (Nick Frost) has over 825 thousand followers.
Career
Movies 
Nick Frost made his debut in the movie industry with the role of Ed in the 2004 horror-comedy, 'Shaun of the Dead'. He was critically praised and the audience loved his performance. Following the success of this role, he went on to play in movies like 'Kinky Boots' in the year 2005, 'Penelope' in the year 2006, 'Grindhouse' and 'Hot Fuzz' in the year 2007, 'Wild Child' in the year 2008, 'The Boat That Rocked' in the year 2009, 'Paul', 'Attack the Block' and 'The Adventures of Tintin: The Secret of the Unicorn' in the year 2011.
Moreover, other of his movies include 'Snow White and the Huntsman' and 'Ice Age: Continental Drift' in the year 2012, 'Cuban Fury' and 'The Boxtrolls' in the year 2014, 'Unfinished Business' and 'Sirenia' in the year 2015, 'The Huntsman: Winter's War' and 'Asterix: The Mansions of the Gods' in the year 2016, 'Monster Family' in the year 2017, 'Tomb Raider', 'The Festival' and 'Slaughterhouse Rulez' in the year 2018 and 'Fighting with My Family', 'StarDog and TurboCat' and 'Horrible Histories: The Movie – Rotten Romans' in the year 2019.
Moreover, he is also playing the role of Captain Horatio Pugwash in the upcoming movie, 'Captain Pugwash'.
Television Shows
Nick Frost made his debut on television when he appeared for two episodes of 'Big Train' where he played the role of a construction worker in the year 1998. Likewise, he has appeared for 14 episodes of 'Spaced' (1999-2001) and 'Sick Note' (2017-Present), 2 episodes of 'Black Books' (2000-2004), 'Look Around You' (2005), 'Money' (2010) and 'Doctor Who' (2014), 4 episodes of 'Danger! Incoming Attack!' (2003) and 'Mr. Drew's School for Boys' (2014).
Also, an episode each of 'Twisted Tales' (2005), 'Green Wing' (2006), 'Phineas and Ferb' (2014) and 'Galavant' (2016), 26 episodes of 'Supernanny' (2005-2008), 12 episodes of 'Man Stroke Woman' (2005-2007) and 'Hyperdrive' (2006-2007), 6 episodes of 'Mr. Sloane' and 24 episodes of 'Into the Badlands'. Moreover, he has also played the main roles in series like 'Why Women Kill' and 'The Nevers' in 2021.
Achievements
Nick Frost has won the Fangoria Chainsaw Awards for the Best Supporting Actor award for his work in 'Shaun of the Dead' in the year 2005. Likewise, he has also received the Behind the Voice Actors Awards' Best Vocal Ensemble in a Feature Film award shared with the cast of 'The Boxtrolls' in the year 2015.
Net Worth
As of the year 2020, Nick Frost has an approximate net worth of $16 million.
Tags
Others