Who is Michelle Monaghan?
Michelle Monaghan is an American actress who is well-known for the portrayal of Julia Meade in the American action spy movie series, 'Mission Impossible'. Likewise, she is also well-known for the role of Maggie Hart in the American anthology crime drama television series, 'True Detective' for which s nominated the Golden Globe awards nominated hers.
Quick Infos
Full Name
Michelle Lynn Monaghan
Date of birth
March 23, 1976
Birth Place
Winthrop, Iowa, United States
Parent(s)
Sharon Hammel
Robert Monaghan
Occupation
Actress
Spouse
Peter White
Age
44 years
Height
5 ft 7 in
Children
2
Nationality
American
Net worth
US $20 million
Another one of her most notable roles came in the year 2008 when she played the role of Diane Ford in the independent drama movie, 'Trucker'.
Bio, Age, Family, and Young
Michelle Monaghan's full name is Michelle Lynn Monaghan. She was born on 23 March 1976 in Winthrop, Iowa, the United States to her mother, Sharon Hammel, and to father, Robert Monaghan who was a factory worker. She was born and raised alongside two elder brothers whose names are Bob Monaghan and John Monaghan. Besides this, she is currently 44 years old with the zodiac sign of Aries.
Nationality, Height, and Weight
Michelle Monaghan holds an American nationality and descends from Irish, German, English, and Swiss-German ancestry. She is a Catholic and practices Christianity as her religion. Besides this, she stands at a height of 5 feet and 7 inches (1.70m/170cms) tall and weighs around 56kgs (123lbs). Moreover, she has a slim body figure with a pair of green-colored eyes and dark brown colored hair.
Education
Michelle Monaghan studied and graduated from the East Buchanan High School, a rural public school located in Winthrop, Iowa in the year 1994. For further studies, she studied journalism in the Columbia College Chicago, a private college located in Chicago, Illinois but discontinued a semester remaining to pursue a career in acting.
Personal Life, Husband, and Kids
Michelle Monaghan is married to Peter White, an Australian graphic artist since the year 2005. The couple has been blessed with a daughter, Willow Katherine White in the year 2008 and a son, Tommy Francis White in the year 2013.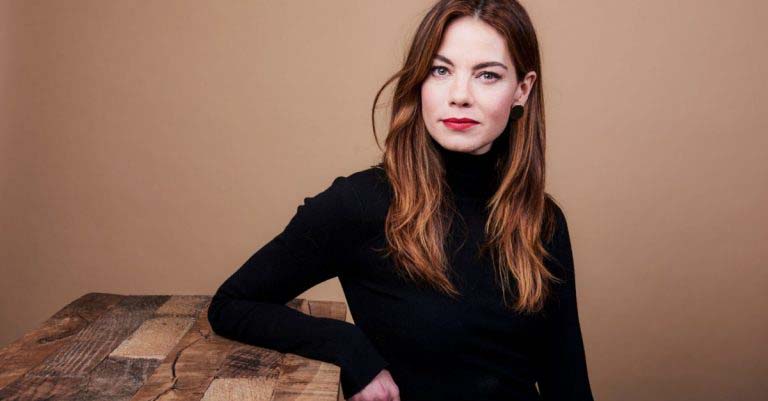 Social: Instagram, Facebook, and Twitter
Michelle Monaghan is active on social media platforms. Her official Instagram account (@michellemonaghan) has over 1.4 million followers and her official Twitter account (@realmonaghan) has over 88 thousand followers. Moreover, her official Facebook page (@RealMonaghan) has over 2.4 million followers with well over 665 thousand followers.
Career
Movies and IMDb
Michelle Monaghan started her career as a professional actor in the year 2001 when she played the role of Henrietta in the American movie, 'Perfume' followed by the role of Lindsay in the 2002 American thriller movie, 'Unfaithful' and the role of Peg Maloney in the 2003 comedy-drama movie, 'It Runs in the Family'.
Likewise, she has also starred in movies like 'Winter Solstice' and 'The Bourne Supremacy' with star Matt Damon in the year 2004, 'Constantine', 'Mr. and Mrs. Smith', 'Kiss Kiss Bang Bang' and 'North Country' in the year 2005, 'Mission Impossible II' in the year 2006, 'Gone Baby Gone' and 'The Heartbreak Kid' in the year 2007, 'Made of Honor', 'Eagle Eye' and 'Trucker' in the year 2008 and 'Somewhere' and 'Due Date' in the year 2010.
Moreover, she has also played the role of Christina Warren in 'Source Code', Julia Meade Hunt in 'Mission Impossible – Ghost Protocol' and Lynn Childers in 'Machine Gun Preacher' in the year 2011, the role of Florence Jane in 'Tomorrow You're Gone' in the year 2012, Sara Frost in 'Penthouse North' and Andie in 'Expecting' in the year 2013, Diana Prince / Wonder Woman in 'Justice League: War' in the year 2014, Violet van Patten in 'Pixels' in the year 2015, Carol Saunders in 'Patriots Days' in the year 2016, Velouria Hall in 'The Vanishing of Sidney Hall' in 2017 and Julia Meade in 'Mission Impossible: Fallout' in 2018.
Her most recent work came in the year 2020 when she played the role of Helen Schechner in the American supernatural horror movie, 'The Craft: Legacy'.
Television Shows
Michelle Monaghan gave her debut on television in the year 2000 when she played the role of Caroline Busse for two episodes of the American drama television series, 'Young Americans' followed by the role of Dana Kimble for an episode of the American crime drama television series, 'Law and Order: Special Victims Unit' in the year 2001 and the role of Stacy Kumble for an episode of the 2002 American crime drama television series, 'Hack'.
Following these roles, she went on to star as Kimberly Woods for eight episodes of the American drama television series, 'Boston Public' and later had recurring and main roles in series like 'True Detective' and 'The Path' where she played the roles of Maggie Hart and Sarah Lane respectively. Her most recent work came in the year 2020 when she played the main role of Eva Geller for ten episodes of the American thriller streaming television series, 'Messiah'.
Achievements and Awards
Michelle Monaghan was awarded the San Diego Film Critics Society Awards' Best Actress award for her work in 'Trucker' in the year 2009.
Net Worth
As of the year 2020, Michelle Monaghan has an approximate net worth of $20 million.
Tags
Others