About Lisa Kudrow
Lisa Kudrow is a multi-talented American celebrity. She is an actress, a comedian, a writer, a producer, and also a singer. She made waves in the film industry and garnered international fame after appearing in the sitcom called "Friends" in which she played the role of Phoebe Buffet from 1995 to 2001. The show lasted for ten seasons and she appeared in all 236 episodes. She also played the role of Phoebe's twin Ursula Buffay for eight episodes. She also played this role in the sitcom "Mad About You". Her character Phoebe is considered one of the best female characters on television. 
| Quick Infos | |
| --- | --- |
| Full Name | Lisa Valerie Kudrow |
| Date of Birth | July 30, 1963 |
| Birth Place | Los Angeles, California, U.S. |
| Parent(s) | Nedra S. and Lee N. Kudrow |
| Occupation | Actress, writer, comedian, singer, produce |
| Spouse(s) | Michel Stern ​(m. 1995) |
| Net Worth | US $100 million |
Early Life
Lisa Kudrow's full name is Lisa Valerie Kudrow. She was born to parents Nedra S. and Lee N. Kudrow on the date of July 30, 1963. Nedra was a travel agent and Lee was a physician. She has two siblings namely Helene Marla and David B. Kudrow. Her brother is a Santa Monica based neurologist. 
Kudrow grew up in a Jewish family and she had a Bat Mitzvah ceremony.
Kudrow completed middle school from Portola Middle School. She completed her high school education from Taft High School which lies in Woodland Hills in Los Angeles. Kudrow has a Bachelor of Arts degree in Biology. She got her degree from Vassar College. She wanted to be like her father and was dedicated to specializing in headaches. She worked with her father for eight years. 
Career
Jon Lovitz, a childhood friend of her brother, convinced her to start doing comedy improvs. After this, Lisa Kudrow started attending improv classes and later went on to join the LA improv group called "The Groundlings". 
She performed with other improv groups too. She started auditioning for roles on TV. Her first role was that of Emily in an episode of "Cheers" in 1989. 
She starred as Ursula Buffay in 24 episodes of "Mad About You" from 1993 to 1999. 
The breakthrough in Lisa Kudrow's career came with the role of Phoebe Buffay in the sitcom "Friends". "Friends" is still watched till this date by millions worldwide and her following is still growing and many people know her by the name of Phoebe still. "Friends" lasted from 19955 to 2001 with a break between 1977 and 1999. 
She also appeared as Phoebe in 1996 in an episode of "Hope & Gloria". 
She voiced the character of Alex Whitey in the episode "The Simpsons" in 1998. 
She voiced Aphrodite from 1998 to 1999 in "Hercules: The Animated Series". 
From 2001 to 2005, she voiced various characters in shows like "King of the Hill", "Blue's Clues", "Father of the Pride" and "Hopeless Pictures". 
Lisa Kudrow played the role of Valerie Cherish in the TV show "The Comeback" in 2005 and 2014. She appeared in 21 episodes and she was also a writer and executive producer for the show.
From 2008 to 2014 she played the role of Fiona Wallice in the American comedy series called "Web Therapy". She appeared in 132 episodes of it and was also a writer/executive producer. 
She voiced Wanda Pierce in 7 episodes of BoJack Horseman in 2015.
From 2016 to 2019, she appeared in 3 episodes of "Unbreakable Kimmy Schmidt".
In 2020, she appeared in an episode of "The Good Place" as Hypatia of Alexandria. 
She was in the recurring role of Maggie Naird in the show "Space Force".
In 2020, she played the role of Phoebe Buffay in the HBO special titled "The One Where They Got Back Together".
Lisa Kudrow appeared as an extra in the film "Overdrawn at the Memory Bank" in 1983.
In 1991, she played the role of Lousia in the film "the unborn". The following year, she played the role of Millie in the film "Dance With Death".
In the 1998 film "The Opposite of Sex" she played the role of Lucia DeLury.
She voiced Ava in the film "Dr.Dolittle 2" in 2001.
She played the role of Marci Field in the 2003 film "Marci X".
In the 2014 film "Neighbors", she played the role of Carol Gladstone. She reprised this role for the sequel of this film titled "Neighbors 2: Sorority Rising".
In the 2019 film "Longshot", she played the role of Katherine.
In 2020, she appeared in the role of Shay Whitmore in the film "Like a Boss". 
She has appeared in tons of other films apart from the ones mentioned above.
Personal Life
Lisa Kudrow and Michel Stern tied the knot on the date of May 27, 1995. Michel Stern is a French advertising executive.  They have a son named Julian Murray Stern together. He was born on May 7, 1998. 
Kudrow suffered from body dysmorphic disorder at the time of working in "Friends".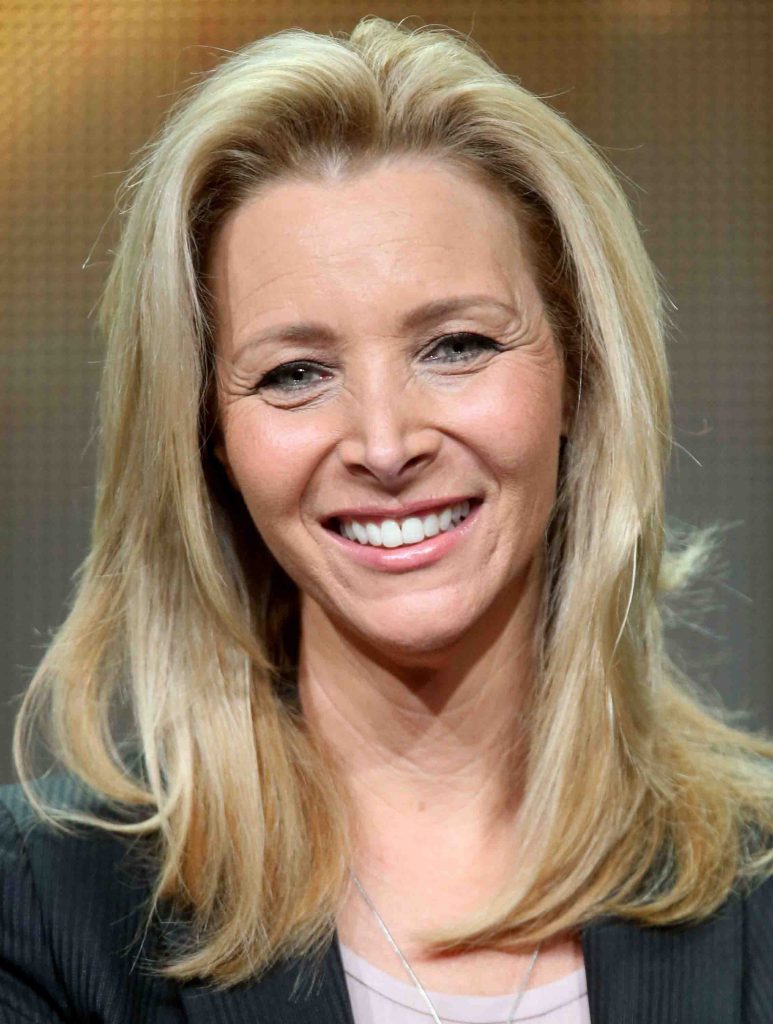 Height, Weight, and Age
Lisa stands 1.73 meters tall and weighs approximately 62 kg.
As of September 2020, she is 57 years old.
Social Media
Lisa Kudrow is active on social media platforms like Instagram, Facebook, and Twitter. She has 7.4 million followers on Instagram, 1.2 million followers on Twitter, and 2.8 million followers on Facebook.
Net Worth
Lisa Kudrow has been active in the industry since 1983 and has acted in several successful TV shows and films. Her role as Phoebe is one of the most iconic female characters in the film industry. As of September 2020, her estimated net worth is around US$ 100 million.
Tags
Others