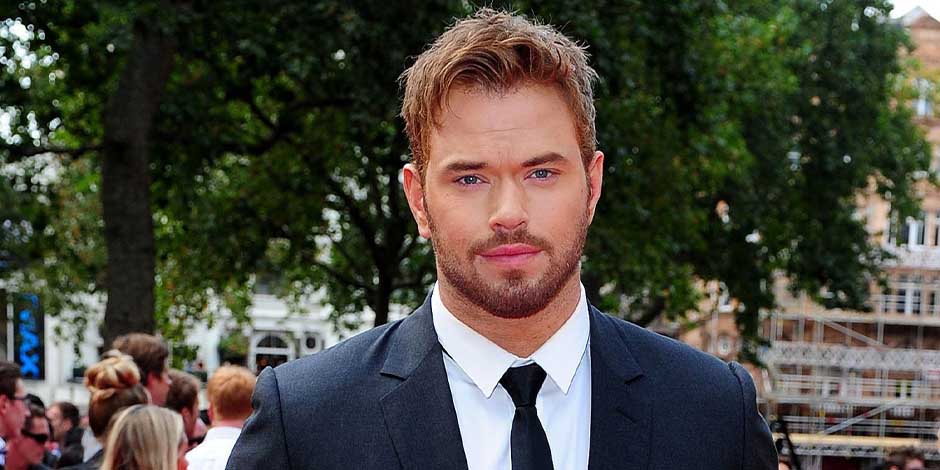 About Kellan Lutz
Kellan Lutz is an actor/model based in America. He is recognized as Emmett Cullen from the film series "Twilight". He voiced Tarzan in the 2013 animated movie "Tarzan". He is also widely popular as Poseidon from "Immortals" and Hercules from "The Legend of Hercules". Over a decade, the thirty-five-year-old actor has already made an appearance in over twenty-five films, fifteen television series, a web series, and a few music videos. He has also won four Teen Choice Awards in different categories for his performance in the "Twilight" film series.
| Quick Infos | |
| --- | --- |
| Full Name | Kellan Christopher Lutz |
| Date of Birth | 15th March 1985 |
| Birth Place | Dickinson, North Dakota, U.S. |
| Parent(s) | Karla Lutz and Bradley Lutz |
| Occupation | Actor, Model |
| Spouse(s) | Brittany Gonzales ​(m. 2017) |
| Net Worth | US $5 million |
Early Life

He completed his high school from Horizon High School, located in Scottsdale. He then enrolled at Chapman University, intending to pursue a Chemical Engineering degree. Kellan Lutz was born as Kellan Christopher Lutz to Karla and Bradley Lutz on 15th March 1985 in Dickinson. He is one of the seven children of the couple and has a sister with six brothers. He spent his childhood mostly in Arizona.
Career
In Television
Kellan Lutz made his debut on television from 2004, reality show "Model Citizens" as a contestant. His first acting role on television was in the 2004 soap opera "The Bold and the Beautiful" as Rob. He then made an appearance in the episode "Tri-Borough" of "CSI: NY" in 2005.
His next television appearance was in the 2005comedy-drama "The Comeback" as Chris MacNess. He was featured in fourteen episodes of the show. He was then seen in the episode "Hold My Hand" of "Six Feet Under" and in two episodes of "Summerland" as Fordie in 2005. In 2007, he made an appearance in "CSI: Crime Scene Investigation" and "Heroes" for an episode each.
He featured in the 2008 miniseries "Generation Kill" as Cpl. Jason Lilley. In 2008/09, he made an appearance in "90210" as George Evans for six episodes. In 2012, he was the guest host of "Punk'd" and made an appearance in "30 Rock". He was also the host of the 2015 game show "Bullseye" along with Godfrey. He was the guest star of "FBI" in 2019 as Ken Crosby and transferred into the main cast for "FBI: Most Wanted" in 2020. He has also played the role of Kyle McBride in the 2009 web series "Valley Peaks". He was featured in two episodes of the web series.
In Film
Kellan Lutz made his big-screen debut from the 2006 teen comedy "Stick It" in 2006. The same year, he was featured in "Accepted" in the role of Dwayne. He was also a part of 2007 Direct to the video horror film "Ghosts of Goldfield". In 2008, he was featured in three different films; "Prom Night" as Rick Leland, "Deep Winter" as Mark Rider, and "Twilight" as Emmett Cullen. The movie "Twilight" received a mixed response from the critics but was loved by the audience. It grossed over $400 million in the box-office against a budget of just $37 million.
He was also part of "After Dusk They Come" as Jake. He then reprised his role as Emmett Cullen in "The Twilight Saga: New Moon". He reprised his role again in "The Twilight Saga: Eclipse", "The Twilight Saga: Breaking Dawn – Part 1," and "The Twilight Saga: Breaking Dawn – Part 2". He was awarded Teen Choice in different categories for all four films.
His other roles include Eddie Arlinger in "Meskada", Conor Sullivan in "A Warrior's Heart," and Charlie in "Love, Wedding, Marriage". In 2011, he played Poseidon in the 2011 action film "Immortals". The movie received a mixed response from the critics but was successful in the commercial market, grossing over $225 million against a budget of $75 million.
He then voiced the title character Tarzan in the 2013 animated film "Tarzan". He played Hercules in the 3D action fantasy "The Legend of Hercules" and John Smilee in "The Expendables 3" in 2014. His other roles in film include Willian Shatner in "Experimenter", Harry Turner in "Extraction" (2015), Sy Lombrok in "Science Fiction Volume One: The Osiris Child" and Captain Fucktastic in "What Men Want".
Awards
From 2004 to present, Kellan Lutz is nominated in over ten award functions and has won five of them. He was also nominated for the parody "Golden Raspberry Awards".
 Personal Life
Kellan Lutz was engaged to Brittany Gonzales in October of 2017 and got married to her in November of the same year. They have a child together and are expecting another child again, which they revealed on 4th September 2020.
He has German ancestry and prefers doing his own stunts in films. He enjoys fitness activities and watches movies in his free time. He also loves playing Street Fighter videogames and has trained Muay Thai and Jujitsu.
Height and Weight
Kellan Lutz is six feet and an inch in height and weighs eighty kilograms.
Social Media
Kellan Lutz has over 900k followers in his official Instagram handle and over 915k followers in his official Twitter handle @kellanlutz.
Net Worth
According to celebritynetworth.com, Kellan Lutz has an estimated net worth of over $5 million.
Tags
Others