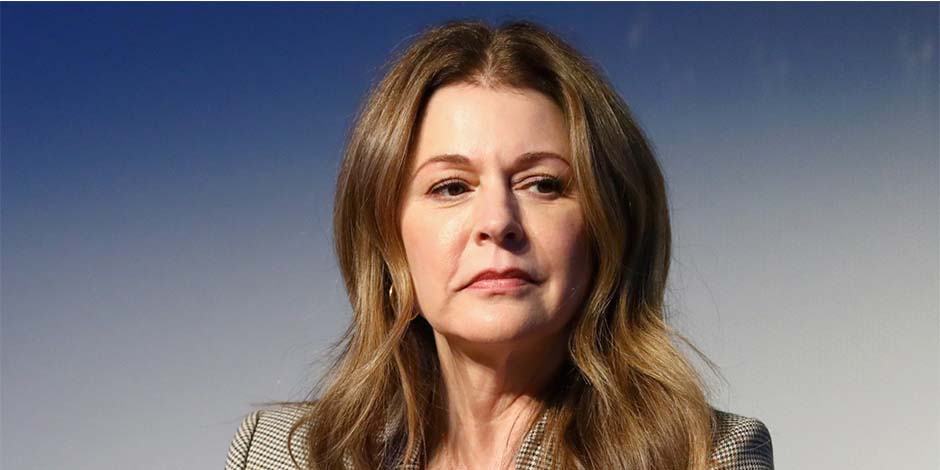 Jane Elizabeth Leeves, famously known as only jane Leeves, is an English actress famous for her TV sitcom Frasier roles.
Quick Infos
Full Name
Jane Elizabeth Leeves
Date of Birth
April 18, 1961
Birth place
East Grinstead, United Kingdom
Parent(s)
Ruth Leeves
Collin Leeves
Occupation
Actress
Spouse
Marshall Coben
Net Worth
52 million dollars
Early Life
Jane Leeves was born on April 18, 1961, in East Grinstead, Essex, England, to Colin Leeves and Ruth Leeves. Her father, Colin Leeves, was an engineer. Her mother, Ruth Leeves, was a registered nurse. Jane has three siblings, among which two are girls, and one is a boy. Although she was born in East Grinstead, Jane later moved to Iford, Sussex, and later to Crawley, West Sussex.
Jane Leeves was interested in acting and dancing from a young age and took Ballet lessons from the Bush Davies School of Dance. Jane also worked as a model before she debuted in her films.
Career
Jane's first performance was in a 1981 TV film 'Nice to See You.' In 1983, Leeves got a role as one of the 'Hill's Angel' in the comedy TV show 'The Benny Hill Show,' also the film 'Monty Python's The Meaning of Life.' She made appearances in movies like 'The Hunger' and 'To Live and Die in L.A..' From 1986 to 1988, Jane portrayed the role of 'Prudence Anne "Blue" Bartlett' in the sitcom 'Throb' appearing in 48 episodes.
After that, she performed in chapters of TV series 'It's a Living,' 'Mr. Belvedere', 'Murder, She Wrote' and 'Hooperman' till 1989. From 1989 to 1993, Leeves played a recurring supporting role in the TV series 'Murphy Brown' portraying 'Audrey Cohen.' This series was her first taste of success. After making an appearance in episodes of 'Blossom' and 'Who's the Boss?', Jane played another recurring role of 'Marla Penny (The Virgin)' in the 1992 TV series 'Seinfeld.' In 1993, Jane portrayed the character 'Daphne Moon' in the TV series 'Frasier.' the viewers and critics loved her role in the series.
Leeves got nominated in the awards like 'Golden Globe Awards,' 'Screen Actors Guild Awards,' 'Primetime Emmy Awards,' 'Satellite Awards' and 'Viewers for Quality Television' Awards more than one time for her strong and outstanding role in the series. She won the 1995 'Viewers for Quality Television' award for 'Best Supporting Actress in a Quality Comedy Series' and the 2000 'Screen Actors Guild Awards' for 'Outstanding Performance by an Ensemble Comedy Series' for the widely known series 'Frasier.' She played her role till the series finale episode in 2004, appearing in total 257 episodes.
In 2006, Jane Leeves appeared in 7 episodes of the series 'Misconceptions.' Jane has played in the films 'Miracle on 34th Street', 'Pandora's Clock,' 'Don't Go Breaking My Heart,' 'Music of the Heart,' and 'The Event' till 2003. In 2008, she appeared in the TV series 'The Starter Wife,' and in 2010, Jane featured in 2 episodes of 'Desperate Housewives.' In 2009, She portrayed the character 'Liv' in the comedy film 'Endless Bummer.'
From 2010 to 2015, Leeves played in 128 episodes of the TV series 'Hot in Cleveland,' portraying 'Joy Scroggs.' Jane Leeves got nominated in 2011 'Screen Actors Guild Awards' for her outstanding performance. She has voiced the characters in animated series and films like 'Phineas And Ferb', 'We Bare Bears,' 'The Simpsons' and many others. In 2018, Jane Leeves got cast as a series regular in a medical drama TV series 'The Resident.' She is portraying the role of 'Dr. Kitt Voss'.
Personal Life
Jane Leeves is presently married to Marshall Coben. Coben is a CBS Paramount Television executive; the couple instantly started liking each other and started dating after they first met. Jane and Marshall have been married for about 23 years now. They got married on 21 December 1996. The duo has two children together.
According to our sources, Leaves' daughter has Peri Gilpin as her godmother. Gilpin was Leeves' co-star in the popular sitcom Frasier. Leaves' son has David and the late John as his godfathers. Leeves also actively takes part in awareness and social works. In the year 2012, Leeves played an ad for the NOH8 Campaign. This campaign supports the LGBT community.
Age, Height, Nationality and other facts
Born on April 18, 1961, Jane Leeves is 59 years old (at writing). Being born in East Grinstead, Essex, England, she is British and belongs to the white race. The English actress stands at 5 feet, and 10 inches tall that is 1.78 m and 178 cm. She weighs about 60 kg, which is 132 lbs. Jane has a gorgeous slim build body. Her body measurement is 34-27-36 inches.
She also has a fair complexion with dark brown hair and dark brown eyes. Jane is known to be a very confident woman who is kind even though she is famous. Leeves' favorite food is known to be Cheese, Vodka, Basic Roast Chicken, and her favorite destination is London.
Net Worth
Jane Leeves is a very successful actress, a model who has been working in the industry for a long time. Her net worth is estimated to be $50 million- $52 million.
Tags
Others