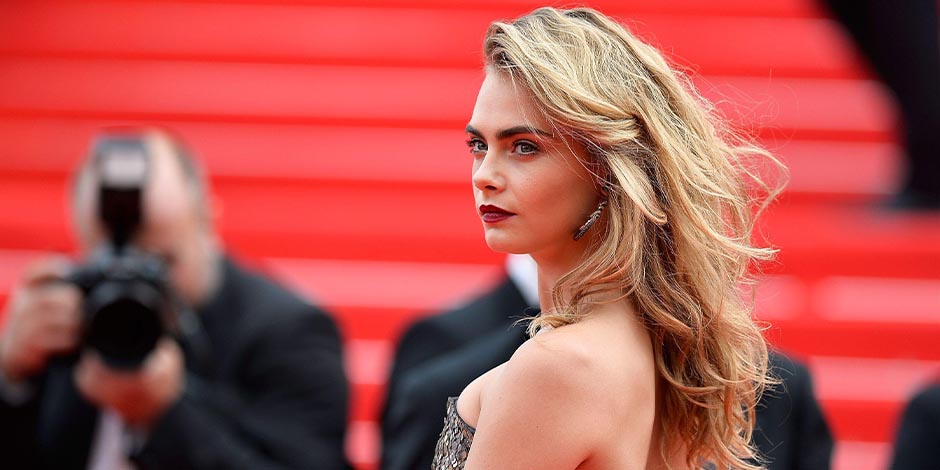 About Cara Delevigne
Cara Delevingne is an actress/model/singer who is currently based in England. She started her career in modeling when she was a teenager. She has been featured as a model in several brands and has been featured in sixteen television series and films collectively in her decade long career until now. She is also featured in a few music videos and has sung numerous songs in collaboration with other artists. She is currently working for IMG Models.
Quick Infos
Full Name
Cara Jocelyn Delevingne

Date of Birth
12 August 1992
Birth Place
Hammersmith, London, England

Parent(s)/Sibling(s)
Charles and Pandora Anne Delevigne
Poppy Delevingne (sister)
Occupation
Model, Actress, Singer
Net Worth
US $28 million
Early Life
Cara Delevingne was born as the youngest child of Charles and Pandora Anne Delevigne on 12th August 1992 in Hammersmith. Her father is a property developer. Her career in modeling started when she was just ten. She struggled with depression and dyspraxia in her teens. She is also the goddaughter of Joan Collins and Nicholas Coleridge.
She completed her GCSE from Francis Holland School for Girls, after which she attended Bedales Schools to study music and drama. She dropped from Bedales and followed her sister Poppy's footsteps to pursue a career in modeling.
Career
In Modelling
After doing her first job as a model at agent ten for Vogue, Cara Delevingne was signed by Storm Management after graduating from Francis Holland School. She did her first runway show Burberry Prorsum at the London Fashion Week in 2011. She was then seen walking at the Chanel Haute-Couture Spring Show in early 2012.
She has also walked for the New York Fashion Week for nine shows and also walked for Burberry in the London Fashion Week in 2012. She did shows for Sonia Rykiel, Stella McCartney, Nina Ricci, and a few others in the Paris Fashion Week back in 2012. She gained media recognition after she did over 20 shows in Fashion Month.
She was also a model for Victoria's Secret and for Justin Bieber's "Beauty and a Beat" performance in 2012. From 2012 to 2014, she has walked for a number of brands and designers, including Versace, Pucci, Jean-Paul Gaultier, Tommy Hilfiger, and Mulberry. She started becoming selective of shows for exploring her curiosity and embracing new things since 2015. She was also featured in multiple magazine covers including "The Edit", "Glamour", "Vogue Paris," and "Elle". Cara was one of Rimmel's face in 2016 and was seen along with Kendall Jenner in "Love".
She has also opened and closed shows for brands like Topshop, Burberry, and a few others. Cara has appeared in commercials of "Sephora", "Chanel", Apple", "Activision," and several others.
As an actor
Cara Delevingne made her big-screen debut from the 2012 romantic drama "Anna Karenina" as Princess Sorokina. The film received a positive response from critics and has grossed over $68 million in the box-office. In 2014, she was seen in the short film "Reincarnation" and "The Face of an Angel" as Melaine.
She was then featured in "Paper Towns" in the role of Margo Roth Spiegelman and as a mermaid in "Pan". In 2016, she was featured in "Suicide Squad" as of June Moone. The film received a negative response from critics but was loved by the audience and grossed over $700 million in the commercial market. "Valerian and the City of a Thousand Planets", "Her Smell," and "London Fields" are few of her other film performances. She is ready to be featured in "Life in a Year" as Isabelle, which is still in production.
She was seen in the episode "Timeless" as Chloe in the 2014 series "Playhouse Presents". She was a series regular for "Carnival Row" in the role of Vignette Stonemoss. She was featured in "Running Wild with Bear Grylls" in 2019.
Cara has been featured in twelve music videos and as a voice actor for a videogame.
She also sang a number of songs with other artists and has written a book titled "Mirror, Mirror".
Awards
In Cara Delevingne's career from 2009 to present, she is nominated for over nineteen award functions and has won eight of them, including Model of the Year twice in 2012 and 2014.
Personal Life
Cara Delevingne identified herself as a bisexual in 2018 and was in a relationship with St. Vincent until 2016. She was then in a relationship with Ashley Benson from 2018 until 2020.
Cara has been listed in "London's 1000 Most Influential of 2011" by Evening Standard, "100 Makers of the 21st Century" by The Sunday Times, "Most Desirable Women" by AskMen, and in "Power 1000" by the Evening Standard. She was also listed in the "Hot 100" list by Maximin 2014.
She has multiple tattoos in her body, including a Lion on her finger. She belongs to English/Welsh/German/French/Scottish and Irish ancestry. She is a natural beatboxer and can also play guitar and drum.
Height and Weight
Cara Delevingne is five feet eight inches in height and weighs fifty-one kilograms.
Social Media
Cara Delevingne has over 44 million followers in her official Instagram handle @caradelevingne and over 9 million followers in her official Twitter handle @Caradelevingne.
Net Worth
According to celebritynetworth.com, Cara Delevingne has an estimated net worth of over $28 million.
Tags
Others