About Cicely Tyson
Cicely Tyson is a famous actress with countless honors and achievements and best known for her strong character and personality as an African-American woman.
Quick Info
Full Name
Cicely L. Tyson
Date of Birth
December 19, 1924
Birth Place
Harlem, New York City, U.S.
Parent(s)
Frederica Tyson and William Augustine Tyson
Occupaiton
Actress, Model
Spouse(s)
Kenneth Franklin ​(m. after 1942 - Divorced)
Miles Davis
​​(m. 1981; div. 1989)
Net Worth
US $10 million
Early life
Tyson was born on 19th December of 1924 in the Harlem of New York City. Thus, she belongs to American nationality. Her full name is Cicely L. Tyson, and born to Frederica Tyson and William Augustine Tyson. She was raised in quite a hard life as her father did not have any fixed-job of his own, so he used to work in different fields of work as a painter, carpenter, and so on while her mother was involved in domestic work.
Career
Early career:
Before turning into an actress, Cicely Tyson started as a model. With the help of Ebony magazine photographer, she soon became popular in the fashion industry. Eventually, she started acting in 1951, appearing in the Tv series called Frontiers of Faith.in 1950, she performed her first-ever stage role and ascended to filming in 1956. She made her first-ever film appearance in the movie Carib Gold. Later in 1963, she starred alongside George C. Scott in a TV drama series called East Side/West Side and became the first African American woman. The series had a total of 25 episodes and lasted for a year.
During those years, she appeared in many plays of writer Jean Genet, and she also acted in soap opera and made appearances in the game show.
In 1966, Cicely Tyson appeared in another drama musical film named A Man Called Adam. Following year, she had her first starring role in the novel based film called The Comedians, and in 1968, she played the supporting role in another story based film called The Heart Is a Lonely Hunter.
Stardom:
Cicely Tyson made her breakthrough in the acting career after starring in the Deluxe Color drama film called Sounder. In 1972, Tyson received her first nomination for the Academy Award for Best Actress and Golden Globe Award for the Best Actress, and she won her first-ever award –NBR Nest Actress and NSFC Best Actress.
The starting of the early '70s was the best year of her career. She won another two awards called Primetime Emmy Award for Outstanding Lead Actress – Miniseries or a Movie for her outstanding performance in the movie, The Autobiography of Miss Jane Pittman. She also won Emmy Award for Actress of the Year- Special and received BAFTA Award for Best Actress in a Leading Role nomination.
Since then, Cicely Tyson has received countless nominations in her acting career. In 1977 and 1978, Tyson earned the Primetime Emmy Award for Outstanding Supporting Actress- Miniseries or a Movie nomination for her performance in the TV miniseries called Roots and King. In 1981, Tyson starred in the TV film called The Marva Collins Story, portraying the character of Marva Collins. For her performance, she was awarded NAACP Image Award for Outstanding Actress in a Television Movie, Miniseries or Dramatic Special. She again received the NAACP Award for the TV film Samaritan: The Mitch Snyder Story.
Later career:
After a long break, Cicely Tyson appeared in the film Fried Green Tomatoes portraying Sipsey's character. She then appeared in TV series called Sweet Justice, which was premiered in 1994. Tyson showed the character of Carrie Grace Battle, who was an attorney and Civil rights activist. Tyson received her 3rd Emmy award after her role in novel based TV series; Oldest Living Confederate Widow Told All in 1994. She also appeared in the drama film, Hoodlum in 1997 and in a real story-based movie called A Lesson Before Dying in 1999. In 2005, she made her appearance in comedy-drama called Diary of a Mad Black Woman and played the supporting role in the novel-based movie called Because of Winn-Dixie the same year.
In 2010, The drama called The Help awarded with Broadcast Film Critics Association Award and Screen Actors Guild Award, where Tyson portrayed the character of a maid named Jackson.
In 2013, Cicely Tyson performed another award-winning play called The Trip to Bountiful. She received three awards, namely the Tony Award for Best Actress in a Play, Drama Desk Award, and Outer Critics Circle Award for Outstanding Actress in a Play. The same year, she received a Primetime Emmy Award nomination for her role in How to Get Away with Murders, where she portrayed a mother, Ophelia Harkness.
Personal life
Cicely Tyson soon will turn 96 years old as of 2020, but she doesn't have any children of her own. She does have an adopted granddaughter named RaeVen Larrymore Kelly, who is an actress. Even though Tyson didn't have any children of her own, she sure had lovers and husbands in the past. Tyson was committed to Kenneth Franklin in late 1942 when she was just 18 years old.
After getting divorced from her first husband, she started dating Miles Davis, a divorcee, and a cocaine addict. He got married to Tyson only after marrying Betty Davis in 1981. After only seven years of marital relationship, they got divorced in 1989, but after two years of divorce, her ex-husband Davis died. Since then, she hasn't been involved in any relationships or marriage.
Cicely Tyson doesn't open much about her life to the public, but she sure uses her social account by keeping her viewpoint and sharing her memories from time to time and remembering her friends. She has a Twitter account with the name @IAmCicelyTyson and over 42k followers, but she is not an Instagram user.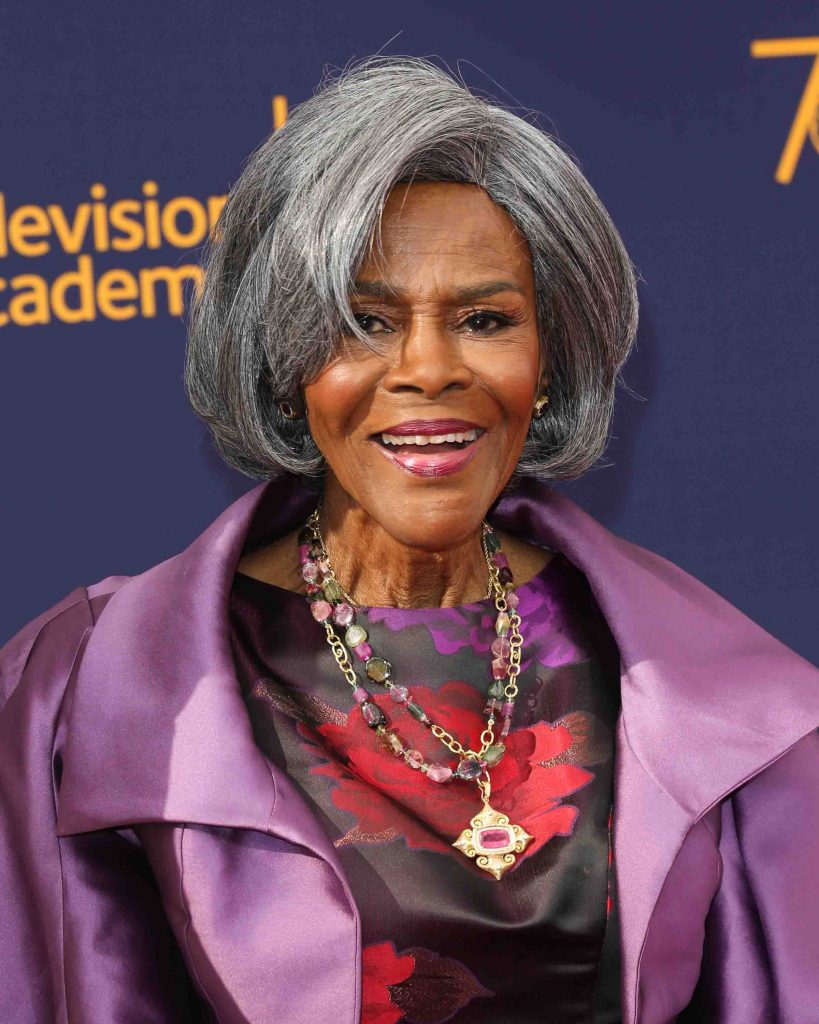 Physical statistics
Cicely Tyson is in her 90's and still fit and fine. She has a healthy body with a height of 5 feet, and 4 inches weighs around 57 kg. Tyson possesses dark skin color with brown eyes and black hair color. Her distinctive feature is her broad smile.
Her zodiac sign is Sagittarius.
Net worth
As of 2020, Tyson's net worth is estimated to be around 10 million dollars. Her celebrity net worth is estimated from her modeling career and her filming career.